Lionel Messi, Cristiano Ronaldo and Andres Iniesta are the finalists for FIFA´s Ballon d'Or award! One of the three big names will win the award for the best footballer of the world in 2012. year.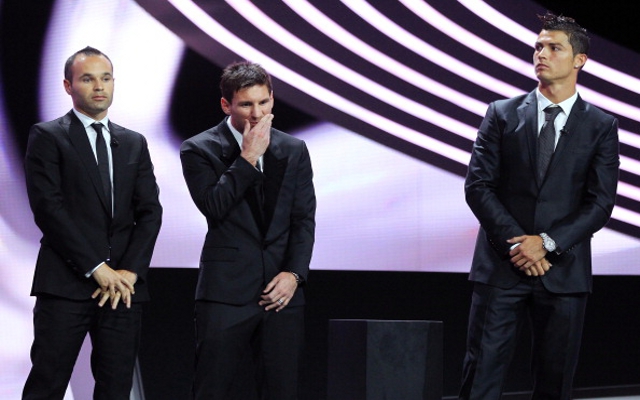 The news was confirmed by Fifa. The same trio was in the final of the UEFA choice for Europe's first name, and the winner was the Spaniard Andres Iniesta.
Award ceremony was organized for the Seventh of January 2013 in Zurich. Messi is a three-time winner in the series, and this year's favorite considering so far,he has scored even 82 goals in all competitions.
Andres Iniesta, Messi's Barca team-mate, has led Spain to defending the title of European champions, while Cristiano Ronaldo was a key figure in the attack on the dominance of Barcelona in the Primera.
The race for the world's best coach, "survived" the Spanish coach Vicente del Bosque, coach of Real Madrid Jose Mourinho and a former leader of Barcelona Pep Guardiola. Although in this calendar year he took only Copa del Rey with Barcelona, Pep has got more votes from Roberto Di Matteo, who led Chelsea to the Champions League trophy.