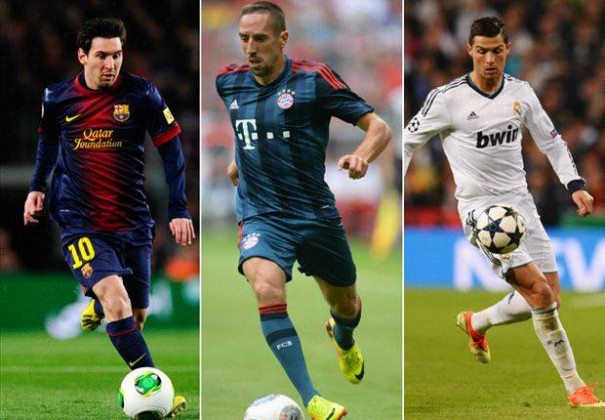 Fifa and France Football have revealed the 23-man shortlist for the 2013 Fifa Ballon d'Or, with Lionel Messi, Franck Ribery and Cristiano Ronaldo among the candidates to win the individual award.

Bayern Munich star, Franck Ribery is accompanied by five Bayern Munich team-mates.
Last year's top three players , among which the winner was chosen, were Messi, Ronaldo and Iniesta.
SHORTLIST IN FULL:
Franck Ribery Bayern Munich France
Arjen Robben Bayern Munich Netherlands
Thomas Muller Bayern Munich Germany
Manuel Neuer Bayern Munich Germany
Philipp Lahm Bayern Munich Germany
Bastian Schweinsteiger Bayern Munich Germany
Lionel Messi Barcelona Argentina
Andres Iniesta Barcelona Spain
Xavi Barcelona Spain
Neymar Barcelona Brazil
Zlatan Ibrahimovic Paris Saint-Germain Sweden
Edinson Cavani Paris Saint-Germain Uruguay
Thiago Silva Paris Saint-Germain Brazil
Cristiano Ronaldo Real Madrid Portugal
Gareth Bale Real Madrid Wales
Mesut Ozil Arsenal Germany
Robin van Persie Manchester United Netherlands
Yaya Toure Manchester City Cote d'Ivoire
Luis Suarez Liverpool Uruguay
Andrea Pirlo Juventus Italy
Radamel Falcao Monaco Colombia
Eden Hazard Chelsea Belgium
Robert Lewandowski Borussia Dortmund Poland