Professional footballers are super fit, focused and among the most gifted athletes in the world. After all, they're not in one of the most highly paid sports in the world for nothing. Reaching the heights of playing in the Premiership and playing for England marks these players out as something special, so it's no real surprise that they excel at other sports as well.
From cricket, boxing, poker and martial arts, it turns out many of our favourite football players have another string to their sporting bow.
JOE HART COULD HAVE BEEN A CRICKETER
Man City and England goalie Charles Joseph John 'Joe' Hart once, once upon a time, a whizz kid at cricket. He played with Shrewsbury County Cricket club and played for their first team in the Birmingham and District Premier League between 2003 and 2005, which was the year he decided to give up the wicket and concentrate on the beautiful game.
ZLATAN IBRAHIMOVIC HAS A BLACK BELT IN TAEKWONDO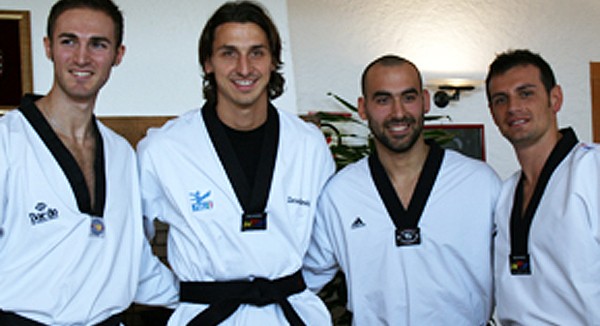 Not English, of course, but extremely famous and one of the most recognisable stars of football in the world, Ibrahimovic plays for Paris Saint Germain and Sweden. But before he became an amazing striker he was an awesome martial artist and has an honorary black belt from the Italian national taekwondo team in 2010.
TEDDY SHERINGHAM TURNED POKER PRO
He used to play for Man United, Tottenham and England and was one of the most popular and famous strikers in the world at one time. Before he retired from football, he'd already started getting into poker and then went on to play full time after retiring 11 years ago. In 2009 he finished 14th in the World Series of Poker Main Event and has won hundreds of thousands of pounds in poker tournaments.
ROY KEANE'S BOXING BACKGROUND
Former midfielder for Notts Forrest, Manchester United and Celtic, Roy Keane has always been known for his tough stance. It's likely that his boxing training when he was young contributed to his ferocious focus on the pitch. He trained when he was a child and was vocal in his love for the sport.
THEO WALCOTT HAS SERIOUS SPEED
It's not that much of a surprise given that Theo Walcott is one of the fastest players in the Premier League, but the fact that he can run 100m in 10.3 seconds actually puts him up there with Olympic standard sprinters. It's clear he could have been a competitor in athletics if his love of football hadn't got to him first.
ROONEY'S FIRST LOVE WAS BOXING
Back when he was just starting to play football, Rooney was a keen boxer. He trained every night until he was about 15 until his club, Everton, demanded he put all his energy into football. He gave it up, of course, and the rest is footballing history.
These are just a few world class footballers who could have turned their speed, abilities and focus elsewhere – luckily for football fans they stuck with the beautiful game!