A chartered plane carrying 81 people, including a top Brazilian football team, Chapecoense FC has crashed overnight near the city of Medellin in Colombia. According to the latest news, at least six are believed to have survived.
PLANE which way flying to Colombia was transporting 81 people (72 passengers and 9 crew members) has tragically crashed on the eve of the landing near the city of Medellin in Colombia, AFP reports. In the plane that crashed were and members of the Brazilian football team Chapecoense, who traveled to the South American Cup final against Atletico Nacional Medellin, a few days after playing against Palmeiras.
My heart breaks for the staff and families of Chapecoense FC after the crash that claimed most of their team. Sending strength & love. pic.twitter.com/qiIcyrp7lk

— Adam Richman (@AdamRichman) November 29, 2016
– Regional police chief Jose Gerardo Acevedo gave the final figures on casualties. "We pulled six survivors from the plane, but one of those persons died in hospital. The other passengers and crew members died in the crash. A total of 76 dead and five survivors.
According to the reports, the plane lost contact with ground controllers as it approached Medellin at about 22:15 (03:45 GMT), after the pilot reported an electrical fault. It came down in a mountainous area.
Brazilian team Chapecoense is dubbed as European Leicester City FC following their quick football success, coming from the Brazilian league C (4th league) to the Copa Sudamericana final first leg in just six years. Placement to the strongest South American competition was the biggest success of the club. Chapecoense reached the final stage five days ago with a goalless draw against San Lorenzo, having previously played in Argentina 1:1.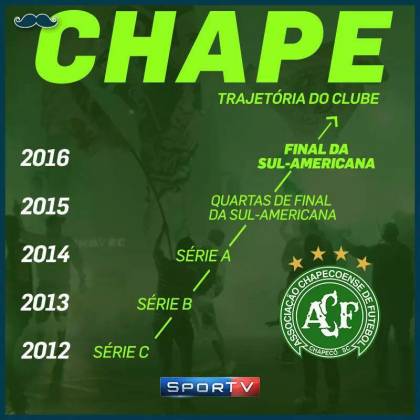 "This is our most important journey in history," said the coach Caio Charolais before going to the first meeting of the finals, not knowing that this will be the last trip for him and his incredible team that will forever be remembered, such as the Czech hockey team in 1948, Turin 1949 and Manchester United in 1958.
Names of the players who were on the flight:
Marcos Daniel Padilha, Gimenez Guilherme de Souza, Bruno Rangel Domingues, Marcelo Augusto Mathias da Silva, Lucas Gomes da Silva, Sergio Manoel Barbosa Santos, José Filipe Machado Nascimento Matheus BITEC Bitencourt da Silva Loureiro Cleber Santana, Alan Luciano Rusch, Thiego Willian de Jesus, Tiago Da Rocha Vieira, Hélio hermit Zampieri Net, Rosado Josimar da Silva Tavares, Dener Assunção Braz, José de Paiva Gildeixon, Ananias Eloi Castro Monteiro, Everton Kempes Goncalves dos Santos, Jakson Ragnar Follmann, Arthur Maia Brasiliano , Mateus Caramelo Mateus dos Santos Lucena, Aílton Canela, then coach Luiz Carlos Saroli Caio Júnior and club president Sandro Jardas.
Unfortunately, and journalists: Victorino Chermont (Fox Sports), Rodrigo Gonçalves (Fox Sports), DEVAIR Paschoalon (Fox Sports), Lilacia Júnior (Fox Sports), Paulo Clemente (Fox Sports), Mario Sergio P Paiva (Fox Sports) Guilher Marques (Globo), Júnior Ari (Globo), Guilherme Laars (Globo), Giovane Klein (RBS), Bruno Silva (RBS), Djalma Net (RBS), Adré Podiacki (RBS), Laion Espindula (Globoesporte), Rafael Henzel (Rádio Oeste), Renan Agnolin (Radio), Fernando Schardong (Radio), Edson Ebeliny (Radio), Gelson Galiotto (Radio), Douglas Dorneles (Radio) and Jacir Biavatti (Radio).
A sad day for football communities, the fans and before all their families.
Chapecoense vice-president Ivan Tozzo told SporTV. "We could never have imagined something like this. Chapecoense is the biggest reason for joy here."
First images of Colombia plane crash show football badge of Chapecoense team & crash debris https://t.co/yEGYqDpluP https://t.co/UrZ6W4fwTE

— BBC Breaking News (@BBCBreaking) November 29, 2016
Football communities all over the world united in paying their farewells and support to the players, families and the club.
Supporters have gathered outside the stadium of the Brazilian club to honor those who tragically lost their lives in a plane crash on Monday evening
Força para os familiares e amigos de todas as pessoas que estavam neste avião! Que Deus nos conforte nesse momento de luto! #ForçaChape pic.twitter.com/LAsq9MlTet

— Ronaldinho Gaúcho (@10Ronaldinho) November 29, 2016
Antes del entrenamiento el equipo ha guardado un minuto de silencio por las víctimas de la tragedia del @ChapecoenseReal en Colombia pic.twitter.com/So1HrIqpy2

— FC Barcelona (@FCBarcelona_es) November 29, 2016
Sad news to wake up to today. Thoughts are with @ChapecoenseReal and their family and friends.

— Wayne Rooney (@WayneRooney) November 29, 2016
Conmovido y triste por la tragedia de @ChapecoenseReal. Mis condolencias y apoyo para el club, familias y amigos #FuerzaChape

— Sergio Kun Aguero (@aguerosergiokun) November 29, 2016
My thoughts are with all members of @ChapecoenseReal and all their families! #PrayForChapecoense 🇧🇷🙏🏻 pic.twitter.com/9CEjyQwqLs

— Thibaut Courtois (@thibautcourtois) November 29, 2016
Thinking of you, @ChapecoenseReal#ForçaChapecoense pic.twitter.com/0KGRwwqI76

— Arsenal FC (@Arsenal) November 29, 2016
Força, @ChapecoenseReal! Unidos em um só coração! O Flamengo e sua Nação estão juntos contigo! #ForçaChape

— Flamengo (@Flamengo) November 29, 2016
Club vice president John Tozzi briefly stated after the tragedy …
"The whole town is crying. We would never have thought that this could happen. FC Chapecoense always have been a joy to our people," said Tozzi.
The game which Chapecoense FC supposed to play against Atletico Nacional Medellin is of course postponed until further notice and as CONMEBOL reported, all others in South America as well.
"The South American Football Confederation confirms that it has been notified by Colombian authorities that the plane on which the Atletico Chapecoense of Brazil delegation suffered an accident on its arrival to Colombia. We're in contact with the authorities and we are awaiting for official updates," it told the press. "The CONMEBOL family enormously laments what has happened.
"All activities of the confederation will remain suspended until further notice.
"President Alejandro Dominguez is currently in transit to Medellin."
FIFA president Gianni Infantino said:
"This is a very, very sad day for football.
"We are so sorry to hear about the airplane crash in Colombia, it is shocking and tragic news. At this difficult time our thoughts are with the victims, their families and friends.
"FIFA would like to extend its most heartfelt condolences to the fans of Chapecoense, the football community and media organisations concerned in Brazil."
As we stated before, the final was delayed, but most likely it will not be played at all because the Colombians have shown that they are a big club and have asked CONMEBOL to award the Copa Sudamericana title to Chapecoense.
Chapecoense's opponents, Atlético Nacional, want the title to be awarded to the Brazilian side. https://t.co/rcFZZhehed

— BBC Sport (@BBCSport) November 29, 2016
With tears, in our eyes we at Footballtarget.com would like to send our prayers to the players, their families, the club, and the fans.
#ForçaChape They are on their way to the heaven! #ForçaChape
Sad day for football 💐❤️#Chapecoense #ForçaChape
📷 @omomani pic.twitter.com/SBM6XHeFEM

— Mohd. Imran (乇мմ™) (@TheSoulfulEMU) November 29, 2016