Champions league winner from the season 2014/15, Real Madrid sacked the Italian coach Carlo Ancelotti who led the Los Blancos to La Décima.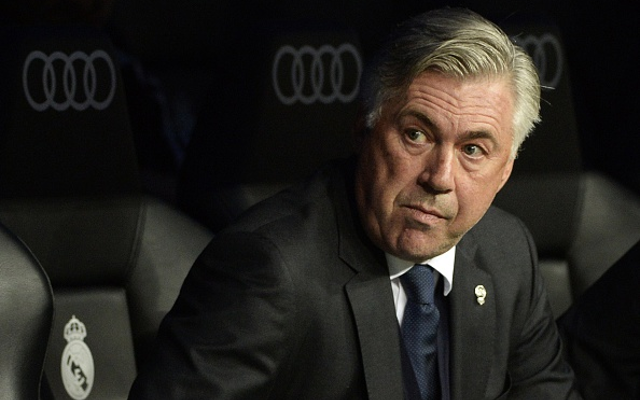 A bad season in which Real Madrid failed to win anything, with Carlo Ancelotti's health problems caused a split between two sides, and the Los Blancos will look for some other solution at their bench.
Real Madrid under the Italian who arrived in Madrid in summer 2013, was knocked in Copa del Rey against Atletico Madrid who later on was knocked by Barcelona, in Champions league, the Italian old/new champion, Juventus with a total of 3-2 knocked Ancelotti's men from the same competition while a blunder 2-2 against Valencia at Santiago Bernabeu in La Liga with Barcelona's 1-0 away win at Atletico Madrid ended the last hope of winning any trophies this season.
Real Madrid president Florentino Perez announced the news:
"I want to tell you that we have decided to relieve Carlo Ancelotti of his duties as Real Madrid coach. It's been a very difficult decision for the board but as I always say, we haven't come here to take the easy decisions but the best decisions for the institution."
"Carlo Ancelotti in these two years, has won the affection of the board and my personal affection and that of the fans. Carlo is part of our history. But as we all know, in Madrid the demands are great. We think it's time for a new impulse which can allow us to win new titles and achieve our maximal level of competitiveness."
"With our great team, talent and hard work we can give satisfaction and success to our fans. I want to thank Carlo for his hard work in the last two years and tell him this is still is house and home. Next week we will know the name of the new coach of Real Madrid".
When asked about the new Real Madrid's coach Perez gave a hint saying: "It would be good if the new manager spoke Spanish."
With many possibilities, most likely Perez was referring to Napoli's boss, Rafa Benites, but Borussia Dortmund's ex boss, Jurgen Klopp stands as the biggest favourite for the Los Blancos bench, and in the last press conference Klopp showed little of his Spanish.
Ancelotti with Real Madrid won the Champions League, European Super Cup, Club World Cup and Copa del Rey in two seasons.
The Italian, Ancelotti then took to Twitter to express pride at his work with Real Madrid.
I'd like to keep in mind this two fantastic years at Real Madrid. Thanks to the club, the supporters and my players. #HalaMadridYNadaMas

— Carlo Ancelotti (@MrAncelotti) May 25, 2015