Football leagues are over, but the football fans still will have something to watch during the summer to cut the gap until a new start of Premier league, La Liga, Serie A, Bundesliga etc., as from Thursday, June 11 to Saturday July 4th in Chile, the 44th edition of Copa America is starting.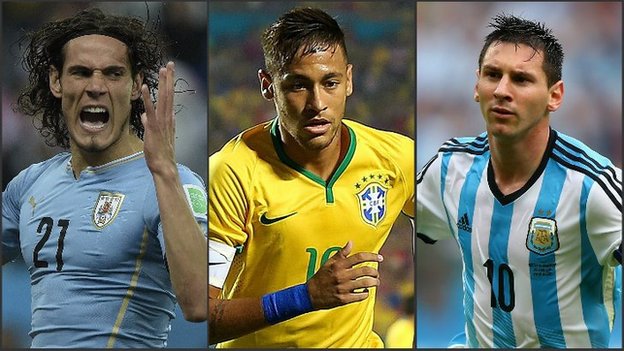 As usual, Footballtarget.com will bring you the match previews, recaps, Match Highlights and Full Match Replays of All Copa America 2015 games!
Chile this year for the seventh time will organize the Copa America, the first time since 1991. Matches will be played in nine stadiums in eight cities, with the largest two in the capital Santiago, where the final Copa America will be played.
In addition to Santiago, the hosts will be Antofagasta, La Serena, Vina del Mar, Valparaiso, Rancagua, Temuco and Concepcion.
This year's Copa America according to the original plan should have been held in Brazil, and Chile was supposed to be the host in 2019, but the plan have been replaced because Brazil hosted the World Cup in 2014, and will host the Olympic Games in 2016.
The competition is divided into three groups and with Mexico invitation this year received and Jamaica.
Brazil and Colombia are in group C, and Argentina and Uruguay in group B, and exactly matches between these national teams in the second round will be the most anticipated matches of the group stage.
The first Copa America was held exactly 99 years back (1916) in Argentina, and after years of wandering, changing formats and periods of time between two competition, in 2007 it was decided that the South American Championship will be held every four years.
An exception will happen next year when it will be the 100th anniversary of the tournament in the United States.
Copa America Preview
The last Copa America competition, four years back Uruguay have won, but the same team will have a tough job to defend the title as their best player, Barcelona's Luis Suarez is suspended because of Chiellini's bite-incident from the World Cup in Brazil.
Argentina and Brazil with their new coach Dunga are coming with the strongest lineups, so we wont miss any excitements, that's for sure.
A very dangerous team will be and the host Chile, who thrilled soccer fans at last year's World Cup in Brazil, as well as Colombia, which will be strengthened with a return of Radamel Falcao. On paper it seems that the easiest Group is "A" where the hosts are. Chileans were lucky to get traditionally weaker teams from South America, Ecuador and Bolivia, and a Mexican boss Miguel Herrera for this competition invited somewhat "weakened" team without their top striker Javier Hernandez and Giovani Dos Santos.
Acclaimed Chilean boss Jorge Sampaoli  will have available an excellent "backbone" of a team consisting of Barcelona's goalkeeper Claudio Bravo, Juventus' midfielder Arturo Vidal and Arsenal's striker Alexis Sanchez, so Chile without any difficulties should win the first place in the group A.
As Mexico, Ecuador will be as well quite weakened as due to injury, experienced Man Utd winger Antonio Valencia and Felipe Caicedo will be out, while Bolivia have the weakest team in the group.
Argentina this time wants to win the title
Argentina boss Gerardo Martino  will have available all the best players like last year in Brazil, and it is difficult to imagine how other teams will be able to stop the attack in which play Lionel Messi, Sergio Aguero, Carlos Tevez and Gonzalo Higuain.
In the absence of Suarez, experienced Uruguayan boss Oscar Tabarez will have to rely on a strong defense and PSG's striker Edinson Cavani in the fight for second place in the group with the current runner-up Paraguay.
However, Paraguay has won only two of their last 14 meetings, and the poor form stretches even further, because in qualifying for the World Cup in Brazil, Paraguay took the last place.
Jamaica will make a debut in Chile in the Copa America, but Winfried Schaefer's men can hardly upset any teams.
In Group C there are two exceptional teams, Brazil and Colombia, which have met in the World Cup quarter-finals last year. Brazil then enrolled a 2-1 win, but the key moment was a injury or Neymar in clash with Zuniga. After that Brazil has lost the semi-finals clash against Germany and the match for the third place.
New Brazil's boss Dunga in attack will have Philippe Coutinho, Diego Tardelli and Neymar while at the back Thiago Silva, Miranda and David Luiz will make a strong defence.
Colombia  compared to last year's World Cup will be stronger for their top scorer Radamel Falcao who in Chile will want to erase bad club season in which he did not meet expectations at Manchester United. Jose Pekerman, with Falcao,  can count on all those players which amazed the world in Brazil last year, James Rodriguez, Jackson Martinez, Juan Cuadrado, Pablo Armero, etc..
With such strong teams of Brazil and Colombia, it is unreal to expect that Peru and Venezuela could grab one of the top two places.
Copa America Groups & Schedule
GROUP A: Chile, Mexico, Ecuador, Bolivia
GROUP B: Uruguay, Paraguay, Jamaica, Argentina
GROUP C: Brazil, Colombia, Peru, Venezuela
Copa America 2015 – Full Fixture List

| | | | |
| --- | --- | --- | --- |
| DATE | MATCH | TIME (Local) | VENUE |
| 11 June | Chile vs Ecuador (Group A) | 20:30 | Santiago |
| 12 June | Mexico vs Bolivia (Group A) | 20:30 | Viña del Mar |
| 13 June | Uruguay vs Jamaica (Group B) | 16:00 | Antofagasta |
| 13 June | Argentina vs Paraguay (Group B) | 18:30 | La Serena |
| 14 June | Colombia vs Venezuela (Group C) | 16:00 | Rancagua |
| 14 June | Brazil vs Peru (Group C) | 18:30 | Temuco |
| 15 June | Ecuador vs Bolivia (Group A) | 18:00 | Valparaíso |
| 15 June | Chile vs Mexico (Group A) | 20:30 | Santiago |
| 16 June | Paraguay vs Jamaica (Group B) | 18:00 | Antofagasta |
| 16 June | Argentina vs Uruagy (Group B) | 20:30 | La Serena |
| 17 June | Brazil vs Colombia (Group C) | 20:30 | Santiago |
| 18 June | Peru vs Venezuela (Group C) | 20:30 | Valparaíso |
| 19 June | Mexico vs Ecuador (Group A) | 18:00 | Rancagua |
| 19 June | Chile vs Bolivia (Group A) | 20:30 | Santiago |
| 20 June | Uruguay vs Paraguay (Group B) | 16:00 | La Serena |
| 20 June | Argentina vs Jamaica (Group B) | 18:30 | Viña del Mar |
| 21 June | Colombia vs Peru (Group C) | 16:00 | Temuco |
| 21 June | Brazil vs Venezuela (Group C) | 18:30 | Santiago |
| 24 June | 1st Quarterfinal | 20:30 | Santiago |
| 25 June | 2nd Quarterfinal | 20:30 | Temuco |
| 26 June | 3th Quarterfinal | 20:30 | Viña del Mar |
| 27 June | 4th Quarterfinal | 20:30 | Concepción |
| 29 June | 1st Semifinal | 20:30 | Santiago |
| 30 June | 2nd Semifinal | 20:30 | Concepción |
| 03 July | 3rd Place Playoff | 20:30 | Concepción |
| 04 July | Copa America Final | 17:30 | Santiago |