Millennium Stadium — Cardiff (Caerdydd)
Olympic games London 2012 :Great Britain vs Uruguay Preview,Live Stream,Highlights
August 1, 2012 2:45 PM EDT
In this third and the final round of group stage football competitions at the Olympic Games in London, sure the most attention attracts group A match between Great Britain and Uruguay.
The British had won four points in their team currently is leading the group with four points, while the same number has collected and the selection of Senegal,who,somewhat surprisingly three days ago celebrated over Uruguay (Highlights), so the South Americans now have one point less than the leading duo and only with a win in the last round they can progress further.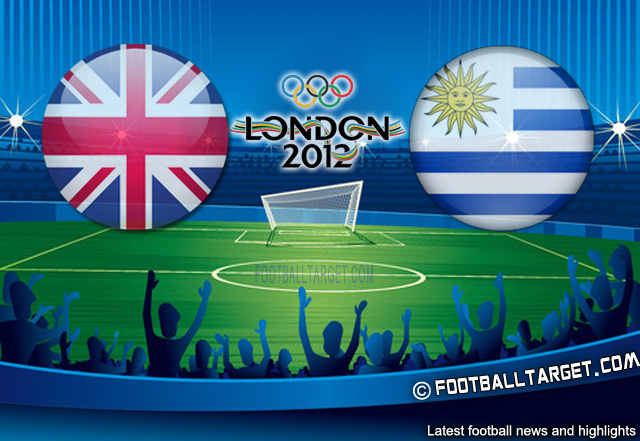 However, in that match the opponent to them will be also one of the main favorites for the gold medal, domestic team of Great Britain, which for these Olympic games have prepared extremely well and certainly have great players,where among others they are led by an experienced Welsh Giggs and Bellamy.
Of course ,they want in front of their fans to get to the very end, and after a sensational elimination of the Spaniards, we believe that all the British fans would like to watch the final match between Great Britain and super strong Brazil.
But to do so, first this Wednesday,the British have to remain undefeated in the match with unpleasant Uruguay, but this does not mean they will defend in this meeting, but probably trough their fast-footed wings Ramsey-Cleverley and devastating attacking duo Sturridge-Bellamy they wait a mistake of the opponent's defense and try to win from their rapid counterattacks.
Actually, these aforementioned players were the most responsibled for the victory over the United Arab Emirates 3-1 (Highlights,Full Match video), while in the first round against Senegal they played only 1:1 (Full match Highlights), which was certainly the result of the lack of teamwork because to be fair this is a completely new team,who for the first time are playing together.
Anyway, again it trough the midfield and experienced Giggs,they will lead their game, while very important will be also,how how their defense will be set against the great Uruguay attackers, so that there should be no change in that part of the team.
Great Britain probable lineup: Butland – Richards, Tomkins, Caulker, Taylor – Ramsey, Allen, Giggs, Cleverley – Sturridge, Bellamy
Unlike the British, the current South American champions and third place winners from the last World Cup, three days ago could not even come to a draw against Senegal, which was certainly a surprise, considering that to this competition they came with a very strong team.
Specifically, they entitled to three older players used on the best possible manner, with an engagement of the two great strikers Cavani,Suarez and experienced midfielder Arevalo, while in midfield they have more talented players like Lodeira and Ramirez, who actually brought them the victory in the first round against UAE's (Full match Video Highlights).
Now against the British they have a new 90 minutes to prove that it was only a weak day, so it is expected that from the very start they play something more offensive, in order to score as soon as possible desired goal, and it just means that they should play again with three players in attack.
Uruguay probable lineup : Campana – Albin, Rolin, Coates, Arias – Lodeiro, Arevalo, Ramirez – Cavani, Suarez, Hernandez
Prediction : Since for the Uruguay in this match plays just a win to progress further, we expect that from the very beginning Suarez and company plays more offensively, which should leave more space for the British fast counter attacks, so here, somehow the most realistic option is over 2,5 goals.
Watch this match from our live stream section for free.