The World Cup 2014 Hosts, Brazil after a penalty shoot-out with 3-2 were better than Chile and secured their quarterfinals place.
A great match with a lot of goal opportunities on both side ended with a 1-1 result which was also and the half-time score. Still neither team manage to score the winner and teams went to into an extra-time which wasnt enough , so the first quarterfinals team was decided with a penalty shoot-out.
David Luiz, Marcelo and Neymar scored for Brazil , Hulk missed one, but it was enough for Brazil as Pinilla, Sanchez and Jara missed for Chile !
Watch Brazil vs Chile Full Match
3:2 Jara missed for Chile ! It's over Brazil reached the quarterfinals !
3-2 Neymar was accurate
2:2 Diaz scores
2:1 Bravo saves Hulk's shot
2-1 Aranguiz knocked the ball into the net
2-0 Marcelo scores, Bravo almost saves it
1:0 Cesar defends Sanchez attempt
1:0 Willian missed the entire goal
1:0 Pinilla denied by Julio Cesar
1-0 David Luiz scores
Goals
Brazil take a lead after a set-piece as Barcelona star Neymar from the left corner delivered a wicked ball which is flicked and new PSG player David Luiz puts it in the 18th minute.
Chile responded in the 32nd minute as another Barcelona player Alexis Sanchez levels the score sending the ball into the bottom-left corner, Cesar was helpless. Vargas assisted after stealing the ball from sloppy Brazil defence and sending in into the box.
More soon..
[leagueengine_show_tournament_match tid=749 mid=49]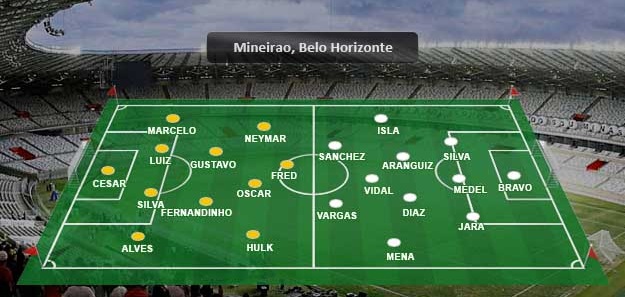 Full Match Highlights
All Goals
All Goals + Penalty Shootout
David Luiz 18′
Alexis Sanchez 32′