Spain  with victory over Italy 4-0 have won the third major competition in a row; European, World and European Championship,and so the Spaniards have written the new history! And how? Magnificently, by winning  with 4-0 in the finals against Italy.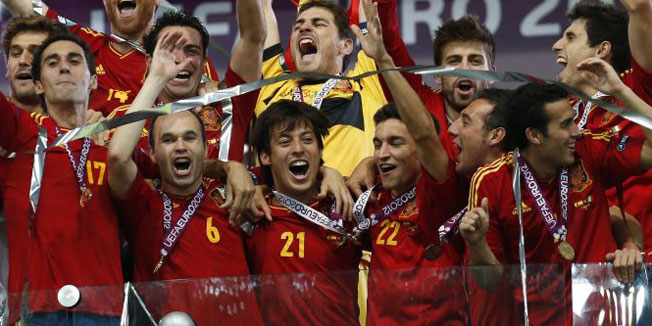 Casualties this time,were the Italians, which the Spaniards have never before defeated at the big competitions within 90 minutes; with goals of David Silva (14) Jordi Alba (41), Fernando Torres (84) and Juan Mata (88) is filled the aim with which La Furia Roja came to Poland and Ukraine.To win the title!
Italy on the way to the finals was worn, and 'La Roja' in the most important moment has shown their real power, kept their strength, show more freshness and as soon as they speed up a game, Italy suffered a heavy defeat. Although, the Italians were not bad,they were unable to defend themselves from aggressive, and offensive Spaniards, who many written off too soon …
Vicente Del Bosque has remained consistent, again, has set a team without a classic striker, it was the same eleven as in the first duel with the Italians in the group C.
However, it was a lot faster, livelier, more concrete Spain, as if the whole tournament defending champions actually rested for the finals in Kiev! Xavi, Iniesta and David Silva,for which previously was objecteded the exhaustion and their game in "third gear", this time they swith in the fifth, plus a turbo!
Prandelli´s 4-4-2
Cesare Prandelli in relation to the semifinal match with Germany returned recovered Abatea back on the right flank, but Balzaretti already after 20 minutes came in, at his position on the left side, instead  of the injured Chiellini.
This time it was Italy with a romb 4-4-2, and not 3-5-2 with the sweeper. Italy was powerless to resist the opponent who easily was crossing their flanks, over Arbeloa and Alba, while Pirlo was "taken" on time from Xavi.
First good chance had Spain, trough Xavi in the 10th minute, but, in the 14th minute, already forgotten 'tika-taka' action which began also ended David Silva for 1-0.
Italians attempts during 2-0
Italians manage to press the Spaniards,and they had several dangerous corners in a row, where the concentration of Casillas was tempted by Balotelli and Cassano.
On the other side, Pirlo inside his own penalty area had to defend the Italians in front of Iniesta, but no one could prevent a counter attack in the 41st minute: Jordi Alba in a full sprint run down the left side where Xavi found him with grea t ball. New reinforcement of Barcelona has calmly placed the ball near helpless Buffon.
In the second half Prandelli started with a fresh striker Di Natale instead of Cassano,and  soon fast attacker from Udinese had a chance with his head, but he shot too high, while closer to goal he was in the 51st minute,when he got face to face with Casillas, which also was the first clear opportunity for the Italians, but Cassilas reflexively has defended Di Natale shot.
Decisive match moment
In 60th minute Prandelli has introduce the third player in the game,Thiago Motta,but it was unfortunately for the match and certainly for the Italians,as already 6 minutes later T.Motta left the game due to hamstring injury. After that moment the match was practically over,and Italians were forced to continue with ten players on pitch.
Del Bosque began introducing the attackers, Pedro,Torres and Juan Mata who have increased the lead of the Spaniards.Firstly,Fernando Torres has scored for 3-0 and four minutes later he assisted to Juan Mata, who has set the final score of 4-0.
With this victory,the Spaniards have set several new records :
First one is, they are only team in the history of the football which has manage to won three major competitions in a row, European, World and European Championships.
Second one,is they achieve a highest victory in the history of European competition finals 4-0.Previusly it was the result from the match between West Germany and Soviet Union.
Fernando Torres is the first player in the history who manage to score in two finals in a row,also whenever Torres has played for Spain,Spain did not lose that match.
Spain 4-0 Italy Highlights(Silva 14, Alba 41, Torres 84, Mat 88)

or
Venue: Olympic Stadium in Kiev
Referee: Pedro Proenca (Portugal)
Italy: Buffon, Chiellini (Balzaretti 21), Abate, Barzagli, Bonucci, Marchisio, De Rossi, Montolivo (Motta 56), Pirlo, Balotelli, Cassano (Di Natale 46)
Spain: Casillas, Pique, Ramos, Arbeloa, Alba, Xavi, Iniesta (Mat 87), Fabregas (Torres 75), Alonso, Busquets, Silva (Perdu 59)
Full match Video Spain 4-0 Italy is available .