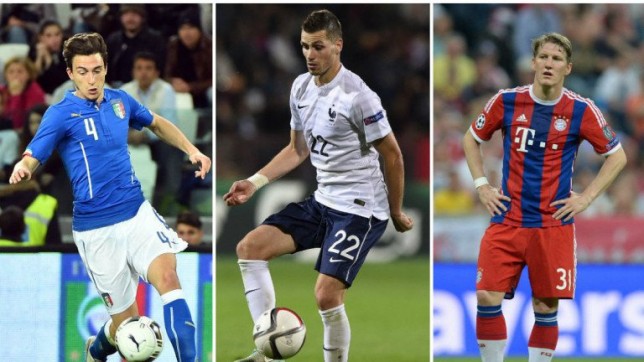 Summer transfer window just recently opened but Louis van Gaal and Manchester United were active from the start. With a question of David de Gea in mind, who most likely is on the move to Real Madrid as the Los Blancos got rid of the club legend Iker Casillas who signed for Porto FC, Manchester United beside of search for their new goalkeeper will look to sign and the new striker considering that Man Utd boss with departures of Robin van Persie to Fenerbache and Falcao to Chelsea is left with Wayne Rooney in attack only.
But that's not all, LVG is looking to sign and the new central defender with Hummels and Otamendi standing out as the biggest favourites of LVG, after Real Madrid rejected all bids of United and tied Sergio Ramos further at Santiago Bernabeu.
Earlier from PSV the Red Devils have signed Memphis Depay, while last season Di Maria, Shaw, Herrera, Rojo, Blind and Falcao joined the English giant. Falcao is out, while Di Maria most likely will join the Ligue 1 champion, PSG. From before
Juan Mata, Marouane Fellaini and Michael Carrick are at United.
Manchester United have completed the signing of the Germany International Bastian Schweinsteiger from Bayern Munich and Morgan Schneiderlin from Southampton, who's arrival caused the crowd in midfield.
The 30-year-old Bastian Schweinsteiger has made a debut in Bayern Munich's jersey back in November 2002, and since then he has made 500 appearances and scored 70 times for the Bavarians giant. In his time in Munich Schweinsteiger has more than 20 major honours including eight Bundesliga titles. For Germany he has enrolled 111 caps and was a part of Germany's World Cup-winning team in 2014. To sign him, Manchester United splashed only £14 million.
#mufc is delighted to announce the signing of @BSchweinsteiger from Bayern Munich on a 3-year contract. #WelcomeBasti pic.twitter.com/jGcC2K1HLD

— Manchester United (@ManUtd) July 13, 2015
As we rreported a few weeks back, France midfielder Morgan Schneiderlin joined the English giant from Southampton after signing a four-year contract with the option to extend for a further year. The 25-year-old Schneiderlin has enrolled 253 appearances and scored 15 times for the Saints since his debut back in 2008, while for the national team of France Schneiderlin has made nine appearances. Man Utd after trying to negotiate the price eventually meet Saints' £25 million asking price.
#mufc is also pleased to announce @SchneiderlinMo4 has joined from Southampton. #WelcomeMorgan pic.twitter.com/SqDQXS35Xd

— Manchester United (@ManUtd) July 13, 2015
Matteo Darmian joined the Red Devils from the Serie A side, Torino in a transfer deal worth arround £13m and has signed a four-year contract with the option to extend for a further year. The 25-year-old Darmian since his debut for Torino in 2011 has made 146 appearances and scored 5 league goals. Darmian was a part of Italy squad at World Cup last summer in Brazil and so far has enrolled 13 international caps.
#mufc is pleased to announce Matteo Darmian has completed his transfer from Torino. More: http://t.co/ihtjDgDUTU pic.twitter.com/UOEPCbyNNW

— Manchester United (@ManUtd) July 11, 2015
IN & OUT
With these three players as we mention at the start, Man Utd boss plans to sign at least three more players to strengthen defence and attack of the Red Devils.
If Real Madrid and Man Utd finally agree over David de Gea's transfer the number 1 transfer target for Louis van Gaal will be a new goalkeeper. With Begovic signing for Chelsea and Valdes on the move from Old Trafford, the Gk position will be the biggest problem. Recent reports suggest that the Red Devils are interested in Tottenham's Lloris while Leicester City's Gk. Kasper Schmeichel could be as well on the potential wish list. Manchester United in the end could opt to sign Argentine goalkeeper Sergio Romero, who's on Monaco's bench.
Daley Blind last season played in midfield but the next season he could play on the left side-back considering a heavy crowd in Man Utd's midfield. With Darmian on the right the only two position in question are positions of the central defender. The Argentinian Rojo signed last season and his place at he back is sure, while Jones, Smalling and Evans will "fight" for the last remaining place. Still, Louis van Gaal intends to sign a new defender. Real Madrid's Sergio Ramos was a big wish, but he's most likely out, considering that he became a new captain of Real Madrid.
According to the last informations we got, Borussia Dortmund said NO to Man Utd's inquiry over Hummels. If something over night doesn't pop up, this leaves Valencia defender Otamendi as the number 1 target for Man Utd to sign.
As we mentioned several times, Man Utd's midfield now is crowded. No more signing on these position will be, but as we mentioned earlier, considering the need of Man Utd for the new attacker, the Red Devils could make a deal with PSG over the swap Cavani – Di Maria.
Mexico international Javier Hernandez returned from a loan at Real Madrid, but Man Utd boss is not keen on keeping him at Old Trafford, so like Di Maria he will probably be on the move. If Cavani doesn't sign for Man Utd, it's hard to predict whom Van Gaal will try to sign. Many strikers already switched sides, and without Cavani, a good enough for Man Utd only remains several players, like Higuain and Benzema.
So, How Will Man Utd line up next season with Schweinsteiger, Schneiderlin & Darmian?
With many tactics of LVG, some doubts over De Gea and Di Maria, and without new signings at this moment Man Utd lineup could look like these below.
– If Man Utd sign new players, article and tactics will be updated..
4-3-3
4-4-2 (Diamond)
3-5-2
If we decide to play with new signings of Man Utd, easily new Man Utd first lineup could look like this. Impressive!