Brazil secured the semi-finals match with Germany after beating Colombia 2-1 , but for the clash with the "Elf" the Samba kings will be without their star, Neymar Junior who suffered a broken vertebra. Brazil's team doctor confirmed the news!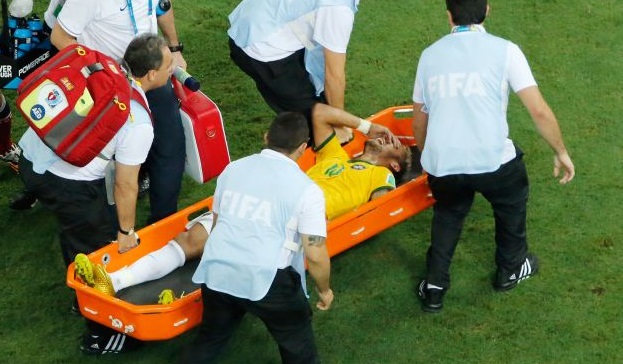 The bad news for Scolari got even worse when Thiago Silva picked his third World Cup yellow card and will be suspended.
During a game, on which was a lot of fouls, the most at this World Cup, Neymar had a lot of problems with his defender, Zuniga, and the Colombian was the one who injured the Brazilian with reckless foul.
Neymar has left the game with broken vertebra, the news has reported Team doctor Rodrigo Lasmar to Brazilian TV.
Video of Neymar's injury
"It's not easy news to give but the truth is he won't be available for the rest of the World Cup.
"The tests showed a fracture near the third vertebra. It won't need surgery but he needs to be immobilized to control the pain. He cannot play, a week will not be enough.
"He needs cautious treatment, with a belt around his back so he'll feel more comfortable. It is also required for him to heal the fracture."
Brazil boss Scolari doesn't think that foul was on purpose : "Everyone knows that Neymar was going to be hunted. We knew this was the case.
"I don't think the foul was on purpose, I think he came in to stop the ball. There's no point in thinking about it, the game is over.
"If anything has to change, we'll do that and we'll play a great game.
Neymar's injury