"This is a tremendous handicap for us, especially since it comes after the loss of another experienced midfielder Gareth Barry," commented England manager Roy Hodgson, who instead of 33-year old Lampard, scorer of 23 goals in 90 appearances for England, called Jordan Henderson from Liverpool".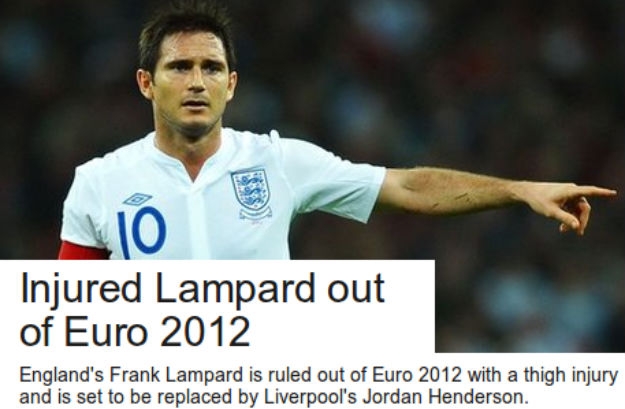 Chelsea players at morning training yesterday injured thigh muscle, and today came a report that confirmed the blackest doubts. Lampard, who next month will have 34 years, was removed from the list of Euro passengers.
Lampard is another player who had to drop out of the team due to injury. Before him Manchester City´s player, Gareth Barry, injured abdominal in a friendly match against Norway, and thecoach Roy Hodgson had no choice but to leave him at home.
"Doctor said that for Frank he can not guarantee return to any meeting of the group matches so we had to replace him. Most sorry is Lampard himself. He was in a very good shape in the season finale and really looking forward to the Euro. It's hard when you due to injury miss a major tournament, "said Hodgson at an extraordinary news conference.