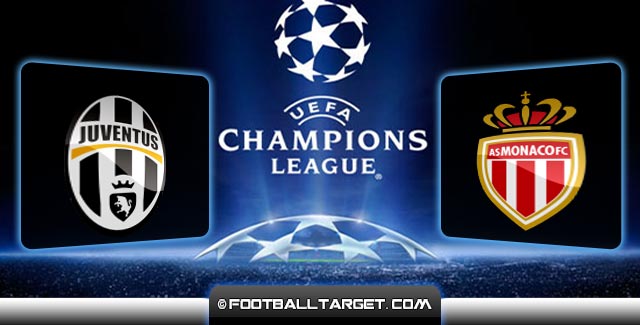 The Long wait is over, Champions League is returning this Tuesday night and in one of two games, the Italian champion, Juventus will host AS Monaco at Juventus Stadium in the first leg of Quarter Finals. The Old Lady will try to avoid Arsenal's blunder and to come out with a positive result which could led them to the Semi finals for the first time since 2003. Meanwhile the French side will look to make another surprise after knocking out Arsenal in the last round.
UEFA CHAMPIONS LEAGUE
April 14, 2015 • 19:45 • Juventus Stadium, Torino
Referee: P. Kralovec
Juventus vs AS Monaco Live Streams
Juventus
The Italian Champions are among the favourites of winning Champions League this season. Bianconeri have shown a great play, compactness and a great team spirit so far , after knocking out Borussia Dortmund of the Round of 16.
Juventus head coach Massimiliano Allegri and Monaco head coach Leonardo Jardim look ahead to their Champions League quarter-final.
But before facing Monaco, Juventus comes with a bad result on the week-end, as they've lost 1-0 against Parma, who stands last in Serie A table and have announced the bankruptcy.
Juventus defender Andrea Barzagli stated that Juventus are not the favourites for the midweek clash against Monaco and he also hailed the management from the former Ac Milan coach, Massimiliano Allegri.
"Are we favourites? No. It is 50/50, but if we were drawn against some other teams it would be less than that," said Barzagli.
"We are more empowered than before. [Antonio] Conte is a great motivator, while Allegri is more about the technical management which is rubbing off on the team.
The 33-years old defender reveals his dream to win the Champions League, but he admits that its very hard to achieve that.
"We dream about Champions League success, but this tournament is also a matter of accident, form, and luck."
Allegri must be happy as he will see his best player returning after suffering a muscle injury. Carlos Tevez returns after missing the last clash against Parma. The Argentine star has been a key player for The Old lady as he have scored 25 times on 37 appearances this season.
After the Parma game, Buffon will replace the veteran Storari and Bonucci will replace the other italian defender Angelo Ogbona.Meanwhile Andrea Pirlo might return after a calf strain injury to take the control of the midfield alongside Arturo Vidal and Marchisio since Paul Pogba remains sidelined.
Fernando Llorente seems to be the favourite to start this midweek instead his compatriot Alvaro Morata. The 22-years old arrived to Turin from Real Madrid last summer and the Spaniard had a big impact on the clash against Borussia Dortmund as he scored two goals on both games.
This is not the first time that The Old lady faces As Monaco. Juventus faced the French side on 1998 on Champions League semifinals, where i Bianconeri won 4-1 the first leg and 6-4 on total. Andrea Pirlo (calf), Martin Caceres (ankle) and Paul Pogba (thigh) are set to miss clash with Monaco.
Possible line up of Juventus: Juventus: Buffon, Lichtsteiner, Bonucci, Chiellini, Padoin, Pirlo, Vidal, Marchisio, Pereyra, Llorente, Tevez
AS Monaco
The French side are considered as the surprise of this season on Champions League.The Red and Whites came out first on Group C and they knocked out one of the big names of this competition like the Premier League side , Arsenal Fc.
Actually, nobody were expecting the Ligue 1 runner ups to perform on Top levels after selling their 2 key players: James Rodriguez to Real Madrid and Falcao to Manchester United, but Monaco still reached the quarter finals for the first time after 11 seasons.
The French side so far is known for the compactness on the defensive phase and low qualities on attack as they've scored only 7 goals and conceded 4 so far. Monaco has been running in a good form of results on Ligue 1 also, as after the win against Caen this week-end, they remain unbeaten on their last 8 games.
As Monaco midfielder, Joao Moutinho stated that Juventus got a great and organised team and they have to be considered the favourites, but so were considered Arsenal.The Portuguese midfielder admits that Monaco is a young team and its very hard, but they want to reach the final of Champions League this season.
"Juventus have a great team with formidable players – a compact group who are very organised.We say that they are the favourites, but then Arsenal were also favourites."
"For us it will not be easy, but we will give 200 per cent in order to achieve our goal.We are young and ambitious. We will do whatever it takes to win. It is an important opportunity we must exploit."
Leonardo Jardim's side must face Juventus without Tiemoue Bakayoko and Andrea Raggi , meanwhile Kondogbia Yannick Ferreira-Carrasco and Jeremy Toulalan are in doubts.
Possible line up of AS Monaco: Subašić, Fabinho, Carvalho, Abdennour, Kurzawa, Toulalan, Kondogbia, Dirar, Moutinho, Ferreira-Carrasco, Berbatov.