[wptab name='Match Preview']
This Sunday at Anfield Rodger's men collide with another title chasing side, Manchester City, and winner could decide about the new Premier league champion.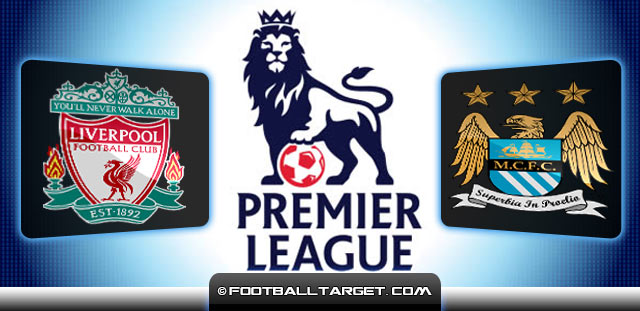 Ahead of this season, barely anyone could predict that Liverpool five rounds until the end will be the leading side of the English Premier league. But Rodger's men if they win it, deserved it. What the Reds have to do, is simple, they have to beat all clubs until the end. First on the list, is another title chaser, Pellegrini's Manchester City who sit on the third having four points and two games less. If Liverpool manage to win this, the gap would increase to 7 points. The Reds still have to play against another title chaser, Jose Mourinho's Chelsea, who sit on the 2nd with two points less than the Reds.
Chelsea play this Sunday afternoon with Swansea (away), meaning with a possible win of the Blues and a draw at Anfield situation would become even more complicated.
Liverpool fans are waiting for the title for nearly two and a half decades, the agony lasts from 1990th, this is the year when Liverpool won their last championship of England from a total of 18 which they won.
Liverpool chasing the drive Suarez and Sturridge
Suarez and Sturridge are leading the Reds
Liverpool are running on Suarez-Daniel Sturridge drive, at this point perhaps the best offensive duo in Europe.
Together they have scored so far 49 goals, 29 Suarez, while Sturridge 20, total with which they became the third offensive duo in the history of the Premier League who managed to score 20 goals each in a season.
They need seven more goals to reach the Premiership record that hold Andy Cole and Peter Beardsley (1994.), and only three goals more to reach Liverpool's record which Ian St John and Roger Hunt hold now for 50 years.
incredible finish of the season
Rodger's side for two weeks holds the number 1 spot, something that no one expected, still a run of 9 straight wins brought the Reds to top, who are also the top goalscoring team in the league, with 90 goals. Brendon Rodgers revived the famous English club, who once again are the title competitors, and have all in their hands. But not only that, as Luis Suarez has shown a brilliant performances this season, and he is short for only three more goals, to overtake the record of 31 goals in a 38-game EPL season. Record which is held jointly by Alan Shearer and Cristiano Ronaldo.
Ahead of this crucial match, Rodgers play ball down, saying is not necessarily crucial in deciding the destination of the trophy.
"It's a significant game. It's two teams who have done extremely well this season but still have a lot of work to do after it," he told the press.
"It's vitally important we stay calm. We showed that at West Ham (in a hard-fought 2-1 victory] last weekend. People talk about pressure but, for us, it's excitement."
Brendan Rodgers doesnt have to change a lot, his team plays very good, but he could strengthen the midfield and take out Sterling or Coutinho, and start the game with something more defensive players, like Allen or Lucas. Jose Enrique remains sidelined due to injury, while Daniel Agger is doubtful, and Sakho could play instead.
Liverpool probable lineup : Mignolet – Johnson, Skrtel, Agger (Sakho), Flanagan – Henderson, Gerrard, Allen – Coutinho – Suarez, Sturridge
As for the "Citizens" from Manchester, what supposed to be a great season, ended badly, as Man City were knocked by Bayer from the Champions league, while Wigan once again endend their FA Cup hope. Now, focus is turned to EPL and Pellegrini's men  await the big derby after a great series of four wins and only one draw (away with Arsenal), a run which keeps them connected with the leading duo, Liverpool and Chelsea. Not only that, but they have two games less of them, and with these six points theoretically they would be on the leading position of the Premier League. This puts them in something more favorable position ahead of match at Anfield with Liverpool.
Since we said, that the Reds have scored 90 goals so far, let's say that the Citizens netted 84 goals in 31 round. Their leading striker, is Sergio Aguero with 15 goals.
However, City manager Pellegrini said that his players simply do not know how to play to a draw, which would in this case, be a good result for them, so he announced an open game from the first minute. But this could be only a mind game, since in the recent time, Man City play with one striker, Dzeko or Aguero, who is ready to play. Speaking of the injuries, Pellegrini can't count only on injured defender Nastasic.
Man City probable lineup : Hart – Zabaleta, Kompany, Demichelis, Clichy –Fernandinho, Yaya Toure – Navas, Silva, Nasri – Aguero (Džeko)
Let's say that in the autumn part of the season, Citizens at home celebrated a 2:1 home win over the Reds, while before that three of their mutual encounters ended with an identical score – 2:2.
[/wptab]
[wptab name='Video Preview']
Hillsborough anniversary gives Liverpool 'great motivation', says Rodgers
Liverpool manager Brendan Rodgers looks ahead to Manchester City game and comments on the marking of the Hillsborough disaster.
Rodgers: Anfield is a 'special place'
Liverpool game will be difficult- Pellegrini
Manchester City manager Manuel Pellegrini said on Friday (11th April) Sunday's (13th April) fixture at Premier League table toppers Liverpool is "not a game that will decide the title".
Pellegrini: Every game equally important
Player anxiety needs to be managed- Pellegrini
[/wptab]
[end_wptabset]