After long 5-years of waiting Liverpool are final back in the Champions league and will host the Bulgarian side Ludogorets thanks to the last season of the English Premier league when Brendan Rodgers' side finished on the 2nd place.
UEFA CHAMPIONS LEAGUE
Liverpool vs Ludogorets Live Streams
September 16, 2014 • 19:45 • Anfield, Liverpool
Referee: M. Jug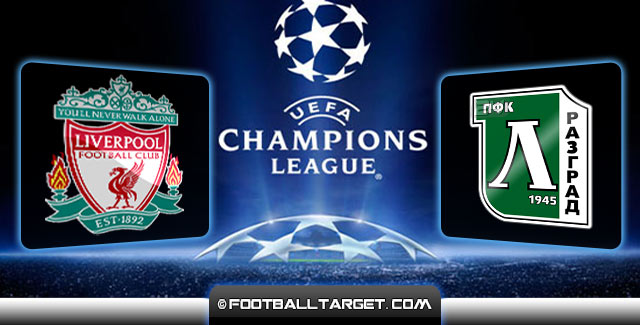 The Superb last season the Reds finished on the 2nd place but until the last game the Reds have had an opportunity to even lift the EPL title. They failed but award of playing in the Champions league after 5-years of waiting is enough.
A mixed season start with 2 wins and two defeats the Reds will try to forget ahead of their return to Europe's elite club competition and the first match with the Bulgarian side Ludogorets who knocked Steaua Bucharest on the most unusual way. The game went to the penalties shootout but 2 minutes before that, Ludogorets defender was sent off. Defender Cosmin Moti stepped in on the goal and scored his and saved two penalties. Before this crucial game, Bulgarian side eliminated Luxembourg's F91 Dudelange and Serbia's FK Partizan. Currently they sit on the third in their national competition after picking up 15 points from 8 games.
This is the first time for Ludogorets to reach the Champions league group stage in their history, and while they are enigma to Liverpool, Rodgers insists that his team will threat them like they are playing against Real Madrid.
"We have an exciting couple of months and this was a game I felt we could do that," Rodgers said. "If he didn't have international football then it would have been the case.
"He is a big player for us but we have built a squad here where I have to trust all the players but as a team and a squad we didn't deliver. He will certainly play on Tuesday night."
"We want to be at the elite level and the Champions League is that and We know Ludogorets are excited about coming to Anfield".

A tough home win against Southampton 2-1, lost to Man City away 3-1, a road win against Tottenham 3-0 and the last round shock at Anfield were Liverpool's result this season. The most surprising of course is a blunder at home last round against Aston Villa who scored early and kept their net clean until the end. Sterling was rested and came in only in the second half, while Mario Balotelli didnt shown anything special so the Reds are still waiting for his "best games" which could fill the void left by Suarez's departure to Barcelona. Daniel Sturridge due to due to a thigh injury missed the last game and remains sidelined for this Champions league opening game for Liverpool.
"This game [versus Villa] has gone and we now have to focus on that," Rodgers said. "There is nothing better than to get going again on Tuesday night in a competition we love. Hopefully we can start that competition with three points."
The list of sidelined players goes on as with Emre Can (ankle), Martin Skrtel (knock) , Joe Allen (knee) ,Glen Johnson and Joe Flanagan (both thigh) are out too.
The Reds signing this summer from Southamtpon Dejan Lovren who most likely will start from the first minute and had played Champions league before with Lyon is can't wait for the kick-off.
"Liverpool and Lyon can't be compared. Liverpool FC is a much bigger club, I'm looking forward forth match kick-off. For two years I have not played in the Champions League," added the Croatian defender.
"We have very tough opponents ahead, but our goal is to pass the group. First match is important and we must win." said Lovren.
Match Prediction : Bulgarian side in their first trip to Anfield doesnt stand a chance. Liverpool are much better team and anything but a win would be a huge blow for the Reds. Liverpool to win and more than 2,5 goals.