With another big derby, El Clasico between Barcelona and Real Madrid, in Premier league on schedule for this Sunday is possible the biggest English derby match, Liverpool vs Manchester United.
PREMIER LEAGUE
March 22, 2015 • 13:30 • Anfield, Liverpool
Referee: M. Atkinson
Liverpool vs Manchester United Live Streams
Match Highlights & Full Match Replay – available after the game end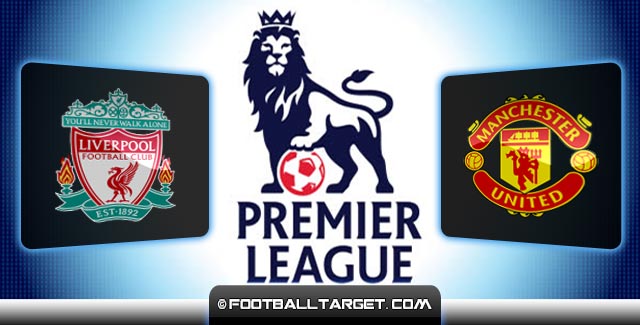 Liverpool and Manchester United are two most successful English clubs and their match is always something special, and this time it could give some answers about the fourth place which leads in the Champions league next competition. The Reds from Liverpool currently sit on the fifth with only two points behind the third placed, Man Utd, who lost only two games so far this season in Premier league.
Liverpool with a win would jumped over Manchester United and took the fourth place, while guests from Manchester will do anything to at least maintain the current advantage, and in the case of victory would increase the gap to five points, which can be crucial.
Liverpool in an excellent mood awaits Sunday's clash with Man Utd after winning the last six games in a row, the last one against Swansea City away, and the last defeat in the league the Reds experienced just at Old Trafford, where last year, on 14 December Man Utd celebrated with 3-0.
Since then, the form of Brendan Rodgers 's side continues to increase and with much confidence they will welcome their great rivals, hoping to inflict them 3rd league defeat. Liverpool have not lost in the last 13 Premier games, and it is interesting that in the last 18 derbies between Liverpool and Manchester United, there was only one draw.
"We've found solutions to issues we had at the beginning of the season but there is still a lot of work to do," Liverpool boss Brendan Rodgers told reporters.
"[The players are] very comfortable in the way of working. We showed a different side [in a 1-0 win] against Swansea on Monday and came through.
"[United have] got a lot of talent and had a big investment in the summer in world-class players. They've been up there all season, and they will want to stay up there. I don't worry about them clicking.
"They had a good result versus Spurs [United won 3-0 last Sunday], but Anfield is a different game."
Raheem Sterling has put contract talks with Liverpool on hold until the end of the season, boss Brendan Rodgers says. The Reds host rivals Manchester United in the Premier League on Sunday.
With convincing home 3-0 win over Tottenham in the last round, the Red Devils also await this big clash with a lot, especially as they lost only twice from the last 19 games. Louis van Gaal is mixing tactics a lot, bringing new ideas, so Man Utd form perhaps is not constant, but after failing to seal the Champions league last year, that remains Red Devils' only goal this season, and to do that, they need to avoid losing at Anfield.
– There is no doubt that this is a crucial match for both teams and we would not like to see Liverpool above us on the table. We've analyzed them good and we are ready, and if our 11 players work as a team as in the last duel, then we have a right to expect a good result – said Louis van Gaal
Manchester United manager Louis van Gaal looks ahead to Sunday's Premier League derby at Liverpool.
"I think every player knows the importance of this game. We are in a very crucial stage and cannot lose," said Manchester United manager Louis van Gaal.
"We played very well in the first half [against Spurs] but it says nothing when you lose the next match. I want to win against them again. It's very important.
Team probable lineups
Liverpool: Mignolet – Škrtel, Sakho, Can – Lallana, Gerrard, Henderson, Moreno – Coutinho, Sturridge, Sterling
Out: Enrique, Ibe, Flanagan, Jones, Lucas
Manchester United: De Gea – Valencia, Jones, Smalling, Blind – Herrera, Carrick – Young, Fellaini, Di Maria – Rooney
Out: Evans, Van Persie, Wilson, Shaw (?), Rojo (?)