Just a few days before one of the biggest football match in world, the Spanish El Clasico, Real Madrid CF travels to England to clash with the Premier league last season's runner-up, Liverpool FC.
UEFA CHAMPIONS LEAGUE
Liverpool vs. Real Madrid Live Stream
October 22, 2014 • 19:45 • Anfield, Liverpool
Referee: N. Rizzoli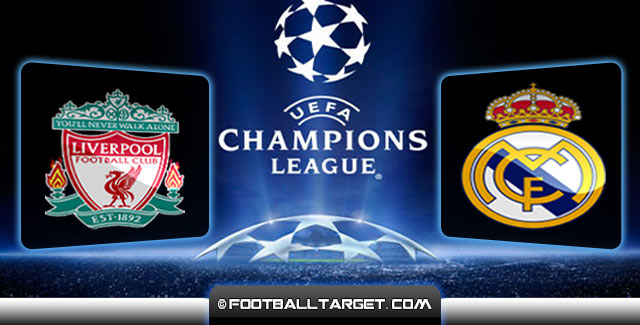 DID YOU KNOW : Real Madrid and Liverpool together have amazing 15 European titles and in the entire history of the Champions League and the Champions Cup, they have played only three games. Almost unbelievable. But even more incredible says the fact that all three matches Liverpool won with a total goal difference 6:0, so Real Madrid are still looking to score at least a goal to Liverpool !
Certainly the players mind would be particularly on the El Clasico match especially as Real Madrid already have six points from the first two Champions league group matches, but the Los Blancos boss, Carlo Ancelotti, wants a good result ahead of El Clasico, meaning there is no room for any relaxations.
On the other side, Brendan Rodgers is fully aware that Real Madrid are are a fearsome prospect, particularly on the counterattack, and after the bad season opening, and their return to Champions league after long 5-years, Rodgers want to please the fans and win the home match. Liverpool are currently on the second place having 3 points, after a win at home against Ludogorets and defeat to Basel, but still the Reds are standing with Real Madrid for the biggest favourite to reach the next stage. This means that Gerarrd and company have to earn at least a point against Real Madrid, otherwise, they will have a tough job to securing easy the next stage.
This match for sure attracts the most attention regarding the Champions league encounters this Wednesday, and the last time these two teams have met was six years ago , when Liverpool entered two wins over the Spanish giant.
The Reds currently sit on the 5th place of the English Premier league, most thankfully to the recent two wins in a row. Against WBA at home and away against QPR when again Rodgers' side have clinched a win in the injury time. The same scenario happen against Ludogorets.
Considering that one of the best teams ever is coming to Anfield, Liverpool players will have a huge motive as Real Madrid are on strike of 7 wins in a row. Rodgers still can't count on the team first striker Daniel Sturridge and Flanagan but a return of Jonhson, Lallana and Lovren is a good thing for the Reds.
"Right now Madrid are a team with a level of performance I haven't seen in years," he told AS. "They have it all. Great experience, great players, speed, individual technique. It's a fantastic squad with a wonderful coach in Carlo Ancelotti, a nice guy who also knows how to improve players.
"When there's an open field there's no-one better than Madrid in the world at counterattacks. Cristiano Ronaldo and Gareth Bale could be in the Olympics with their speed over 100 metres."
Liverpool (4-3-3): Mignolet; Johnson, Lovren, Skrtel, Moreno; Gerrard, Allen, Henderson; Sterling, Balotelli, Coutinho.
The Los Blancos to Anfield are coming after 7 wins in a row, from which the last-two were with a high 5-0. Those were against Athletic Bilbao at home and away against Levante. Real Madrid boss, Carlo Ancelotti knows that now in front of his team stands a much harder task, but he is confident that his team have what it takes to take all three points.
Digging into history, it was Carlo Ancelotti who coached AC Milan in the epic Champions league final when AC Milan had a 3-0 lead at the half-time and still managed to lose, so despite having the big El Clasico clash this week, Ancelotti for sure wants a slight revenge and he wont allow and relaxations in the team, but he could give a rest to some players and introduce them from the bench if needed.
Real Madrid probable lineup : Real Madrid (4-4-2): Casillas; Arbeloa, Pepe, Varane, Marcelo; Rodriguez, Modric, Kroos, Isco; Benzema, Ronaldo.
Available players of both teams :
Liverpool: Mignolet; Johnson, Skrtel, Lovren, Moreno; Gerrard, Allen; Henderson, Coutinho, Sterling; Balotelli. Subs: Jones, Toure, Manquillo, Can, Lallana, Markovic, Lambert.
Real Madrid: Casillas; Arbeloa, Varane, Pepe, Marcelo; Kroos, Modric; James, Isco, Ronaldo; Benzema. Subs: Kaylor Navas, Khedira, Hernandez, Carvajal, Nacho, Illarramendi, Medran