March 24, 2012 5:00 PM GMT
Iberostar Estadi — Palma de Mallorca
Barcelona is on impressive run of form,having won their last six matches in a row in Liga BBVA,and with that they put some pressure on Real Madrid who spoiled big advantage with their last two draw matches which occur with late free kicks from Santi Cazorla and Marcos Senna and so cut the gap between them.
Today that visiting Mallorca who are unbeaten in last four matches which brought them some confidence to face Spain giant Barcelona.However,Barca is in trouble and have just 15 first team players available so Tello, Muniesa, Bartra and Montoya have been added to the squad for this match.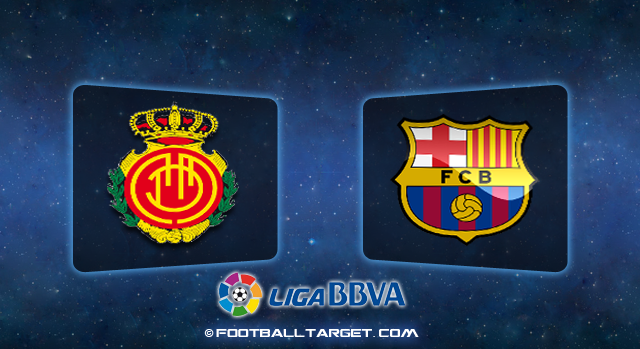 Despite injury problems Barcelona need to take a chance to put some more pressure on Mourinho footballers,and recorded Lionel Messi who netted an incredible 17 goals in his last seven matches for Barcelona is still big advantage for this game.
To quote Shakespeare this is for Barcelona match called "To be or not be",and Xavi,Iniesta,Fabregas,Pedro,are players who still make big difference and they know how to play big games under pressure.This season Barcelona dropped 18 points ,16 away from home,and just two at tome.However even if he know how important this match is for them,as Real Madrid still need to play away matches against Bilbao,and Atletico Madrid ,and home ones against Valencia and Sevilla he still continues to play down hopes for the title.
"Winning the last 10 games is not an easy task at all," he said. "There are many tough opponents.
"We have to carry on winning, nothing's changed. We are six points behind now and we will continue trying to win.
"It's better for us that Madrid aren't winning, but we have to continue winning."
Dani Alves will miss the trip to Mallorca through suspension, while Adriano is sidelined with a thigh injury.
Emilio Nsue,Real Mallorca striker believes a four-match unbeaten run has brought a new level of confidence to the squad as they prepare to face Barcelona.
"Why not? We are playing well and you never know in football," the 22-year-old told www.diariodemallorca.es.
"Winning gives us more confidence now to enjoy the Barcelona game and we will see if we can get something from it now we have very high morale."
Mallorca are just four points from the 40-point barrier which is usually enough to secure top-flight status.
However, Nsue sees no reason they cannot aim above and beyond that over the last 10 matches of the season.
"This team should be ambitious, if we are we can look at going as high as possible," he said.
"We just have to stay calm, take it one game at a time and look at achieving our aims as soon as possible.
"Winning is important for the team. We're working well together, becoming a very close-knit and strong squad and we must continue on this path.
"Personally I've been working hard for months. I feel great, I'm improving all the time and I've grown in confidence. But the most important thing is to help the team."
Probable lineup
Mallorca
Aouate;Chico, Nunes, Ramis, Caceres;Marti, Tissone;Pereira, Alvaro, Castro;Casadesus
Barceona
Valdes;Busquets, Pique, Puyol ;Fabregas, Xavi, Keita, Iniesta;
Sanchez, Messi, Pedro;
Prediction : This game it would be a hard for both teams,as Mallorca is really good team at home,but Barca is Barca,and despite having some injury problems especially with defenders,it has world best midfield and world best player Lionel Messi,which is good enough to play this game as they want,to take another three points and put more pressure on Mourinho players.Barca to win / over 2,5 goals
B.Z
*** Highlights will be available during or after match,meanwhile you can watch this match live from our live football stream section.