Exploring Manchester United transfers past, present & possible…by Derek Lewis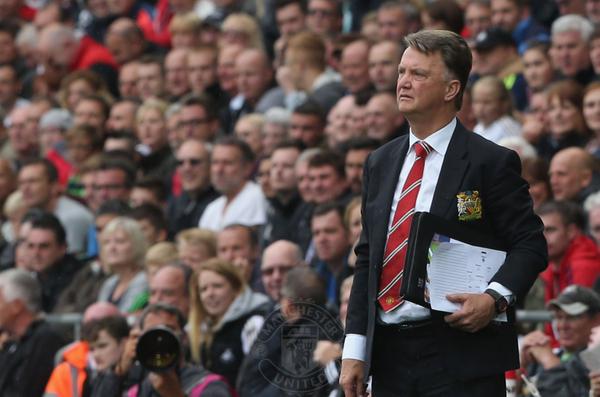 Image: Twitter.com/ManUtd
Is De Gea a Keeper?
The saga of David De Gea's apparently imminent transfer to Real Madrid is at last over…or is it?  United were linked with Spurs keeper Hugo Lloris as a possible replacement and were rumoured to be ready to offer around the £21m mark to land the French international. However, with Lloris was an injury doubt for the new season, and his signing was probably viewed by the cautious Van Gaal as a bit too much of a gamble.
I have always felt that it would be in the best interests of the club for United to take a hit & keep De Gea for at least one more season in order to make serious bids for Premiership & European success. However, can United trust him to give 100% following the collapse of his dream move to Real Madrid at the eleventh hour?
Anders Lindegaard, the 31-year-old Danish goalkeeper despite the remaining year of his contract could have been United's official number two stopper behind the recently arrived Argentina international Sergio Romero, who has had a solid start to his career at Old Trafford, but he signed for West Brom which leaves Sam Johnstone who was promoted to second back up keeper – a terrific boost for the youngster who was part of the England Under-17 squad that won the 2010 European Championship, playing alongside the likes of Saido Berahino & Ross Barkley who have since become established Premiership players.
But it looks like only a matter of time for Victor Valdes; an expected move to Turkish side Besiktas fell through on Sunday but his well-publicised spat with the manager during which Van Gaal is reported to have said of Valdes, "He doesn't follow my philosophy. There is no place for someone like that" would suggest that Valdes will be shipped out at the first opportunity.
Manchester United – The Case for the Defence
A rejuvenated Chris Smalling & fellow England international Phil Jones appear to be the only survivors from Davy Moyes's suicidal back four – Smalling saving his place with a strong end to last season's campaign and Phil Jones being given a contract extension based on his potential. Van Gaal clearly sees something in Jones that the rest of us have missed over the past two seasons, the majority of his performances in 2014/15 were ponderous at best and Jones & Evans were arguably one of the most disastrous partnerships since Mick Fleetwood and Samantha Fox.
Daley Blind, signed initially to provide defensive cover for the midfield, finished last season as a more than competent left back. However Van Gaal with a view to developing Luke Shaw in that position, begun playing Blind at centre-back during pre-season and Blind has taken to this change like the proverbial duck to water.
But Blind will face stiff competition in this position from Marcos Rojo who was one of Van Gaal's rare success stories from last year's signings. Blind's style of play and passing ability fits with the Van Gaal philosophy of building attacks patiently from defence. This being said, against certain, more substantial forwards, e.g. Costa, Crouch & Co., Van Gaal may value the strength on the ball & ability in the air of Rojo, perhaps playing Blind just in front of the defence as a springboard for counter attacks.
The one new defensive signing that Van Gaal has made, Matteo Darmian, was probably not top of his defensive shopping list, but is the type of hard working, versatile player who should be a perfect fit in the manager's system, and indeed, has bedded in well in the right back position in the short time he has been at the club.  
Over the course of the summer United were continually linked with Real Madrid's 29 year old defender Sergio Ramos. Attempts were made to bring the player to Old Trafford either as part of a player swap deal involving David De Gea or a direct transfer with Van Gaal looking to pay around the £28m mark. The deal of course never materialised, Ramos eventually signing a 5 year extension to his contract.  
United Need to Tighten up Around the Middle
Morgan Schneiderlin was tremendous for Southampton last season and should prove a very worthwhile acquisition, but I would suggest that, in the short term at least, he will have a difficult task unseating Michael Carrick at the heart of the midfield. However, Carrick is turning 34 soon and although he still has much to offer United Van Gaal may well see Schneiderlin as the future of the club.
Another excellent signing is Bastian Schweinsteiger. The German World Cup winner, a £14.4m capture from Bayern Munich, is a perfect example of the kind of uncompromisingly competitive midfielder that United fans adore.
Widely regarded as one of the finest defensive midfielders in world football, Schweinsteiger should provide the drive & creativity that has been lacking over the past two seasons. And another thing Schweinsteiger has in his locker that has been obvious by its absence from the united midfield is goals. Schweinsteiger has the ability to score all types of goals and that mark of a truly great player – the ability to create scoring opportunities from apparently benign situations.  
Despite some excellent acquisitions United could do with more creativity in the midfield, and Van Gaal may well be back in the market during the January transfer window. A name mentioned in terms of a possible target is Athletico Madrid midfielder Koke (also a one-time target for Chelsea).  
But again Koke has insisted that he will not leave his home-town club. Koke has been with the Athletico since he was 8-years-old, making his full team debut in 2009 aged just 17. Despite some serious interest from United I would not be surprised if Koke turns out to be those rarest of footballers in the modern game – a one team man.
French International and one time United player Paul Pogba has also been suggested by some as a good fit for the current United set up. However, the nature of his departure to Juventus of which Sir Alex Fergusson commented of Pogba,
'I don't think he showed us any respect at all, to be honest. I'm quite happy that if they [footballers] carry on that way, they're probably better doing it away from us…'  would suggest that any attempts to re-sign Pogba would be frowned upon from on high to say the least.
Ilkay Gundogan is another name that was mooted as a possible signing. The German international is a fine all round midfielder, good with the ball at his feet and able to pick a pass out. However a lack of bite in the tackle might be the reason for Van Gaal's lack of interest.   A player who has never been known to shy away from a tackle is Dutch international Kevin Strootman.  Known as 'the Dutch Roy Keane', one would imagine it would take the United fans no time at all to warm to his all action, box-to-box,  uncompromising style of play.  
Van Gaal is a long-time admirer of the Roma midfielder and in all probability would have signed Strootman before now had it not been for a recurrent knee injury. Strootman was one of the first names on the team-sheet in Van Gaal's Dutch National side until he suffered a knee injury that ruled him out of the World Cup. Strootman underwent knee surgery after further damaging his anterior cruciate ligament during a game against Fiorentina in January so I think that the United Manager, however much he admires Strootman, will wait and see if Stootman can make a full recovery before committing to a serious bid for the player.
Up Front
United reportedly received £44.3million from selling Angel Di Maria to Paris Saint-Germain. I think this was a huge mistake & feel that Di Maria was not given the chance to adapt to the pace & physicality of the English game. He has one of the best midfield pedigrees in world football and I feel that given time he could have proven to the United fans just how good he really is.
Van Gaal had lined up Barcelona winger Pedro as a possible direct replacement for Di Maria; the United boss was looking to pay £20m for the 28-year-old but Barca held out for the full £24m release clause specified in the Spaniard's contract and Chelsea swooped in and gazumped United. Van Gaal taking his eye off the ball has deprived United of the potentially explosive attacking trio of Pedro, Memphis and Rooney.
Options to sign a top class forward seemed to be running low. Right up until the window closed there were still rumblings in the German press of a last gasp bid by United for German international Thomas Muller – Van Gaal reportedly having a bid of around £50m and the offer of a five year contract worth an estimated £270,000 per week to the twenty-five year old rejected.   
Rumours in the press suggested that Van Gaal might re-ignite his interest in Juventus's 30-year-old Spanish striker Fernando Llorente? One of Van Gaal's many complaints last season regarded United's lack of height -the arrival of the 6ft 5in front-man was seen as a step in the right direction to solving that particular problem.
However, no-one really expected the signing of the Monaco forward Anthony Martial, or to be more specific, the amount of money United were prepared to pay for him an estimated £36m. This huge transfer fee sees Martial usurp another United youngster, Luke Shaw (signed from Southampton last year for £27m) as the world's most expensive teenage signing.
Manchester United possible lineup for 2015-16