PREMIER LEAGUE
Manchester United vs Liverpool FC Live Streams
December 14, 2014 • 13:30 • Old Trafford, Manchester
Referee: M. Atkinson
– Match Highlights & Full Match Replay available after the game end
Derby between the two most successful English clubs always is the match of matches and Manchester United enters it in full flight towards the top, while the Reds from Liverpool on the way down on all fronts..
Louis van Gaal's side in a much better mood expect Sunday's derby match with the Reds, considering they are on a run of 5 straight wins, for the first time since a departure of Sir Alex Ferguson. Liverpool to reflect are in a shock after their elimination from the Champions league competitions by Basel, while in Premier league things are not much better, since they are 7 points behind Man Utd and even 18 points behind the leading team, Chelsea FC who with 2-0 were better vs Hull City.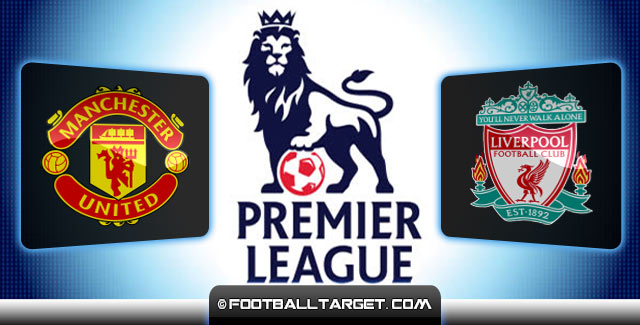 Manchester United
Manchester United with 2-1 celebrated in the last round against Southampton at home, and it must be said with a lot of luck and without Di Maria. Probably the most intriguing thing happen after the match when Robin van Persie said " We are back into title race, remember these words".
Maybe a little too optimistic, but definitely Louis van Gaal slowly puts together the pieces his team is playing much more confident and dangerous. The list of injured players are now less than before, while Wayne Rooney's and Robin van Persie's recent form makes Man Utd's boss, Louis van Gaal, happy.
– We are missing only four players, so the situation is better than ever this season. Luke Shaw, Chris Smalling, Daley Blind and Angel di Maria are still out – said Man Utd's boss, who with recoveries of Jones and Rafael finally has a wider choice in the back line, but again he decided to play with three defenders and two side-backs Valencia and Young, in 3-5-2 formation.
Manchester United manager Louis van Gaal is unconcerned by the criticism his side have come under ahead of their tie with Liverpool.

– I know what the rivalry of these two clubs and a win over Liverpool would mean to the fans, but Liverpool had a lot of misfortune in some games and the Reds position is not entirely realistic.
But my players deserve praise for these five wins and we aim for the sixth – concluded the coach Van Gaal. Manchester United from the last seven encounters against Liverpool at Old Trafford, won six of them.
At the eternal list this is 191st. match between these two giants in all competitions and win ratio is 75-64 for United while 51 matches ended without a winner.
Liverpool
Liverpool's problems are growing, and It is quite clear that in the last transfer window, of 10 players brought none brought required quality. Departure of Suarez seems to be the key problem for Liverpool. Daniel Sturridge's injury didnt help.
In the decisive match of the Champions League against Basel a lack of quality was obvious when the highlight of Rodgers' team was to win a free kick from which the veteran Steven Gerrard scored a goal. Of course that was not enough, and probably will not be enough even this Sunday at Old Trafford, although neither Man Utd is not so convincing as suggested by the five consecutive wins.
However this is a derby, and perhaps the last chance for Liverpool's some kind of turning point in the season which is already lost. Reds are unbeaten in the last five matches, but 18 points behind the league toppers, Chelsea FC is way to much for the last season's runner-up.
Brendan Rodgers looks ahead to Liverpool's visit to Manchester United on Sunday (14 December).
– We have a great desire to raise the level of our performance on the pitch and in the past, my team managed to do that. Of course it would be better to achieve this as soon as possible, but sometimes it depends on our rivals as well.
To the Old Trafford we are coming to show that we worth more – said Rodgers. Mario Balotelli again is in the competition after recovering from injury, while some significant changes are not to be expected.
Team Lineups
Man Utd : de Gea – Evans, Carrick, Rojo – Valencia, Fellaini, Herrera, Young – Mata – Rooney, van Persie
Liverpool : Mignolet – Johnson, Lovren, Skrtel, Moreno – Henderson, Lucas – Sterling, Gerrard, Lallana – Lambert
Match Prediction: Recent form and recent history is on Man Utd's side, and we think that the Red Devils should enter their sixth win in a row for which Bet 365 has a good odd. Back Up Man Utd and claim 100% bonus on your first deposit at Bet365 .