Miroslav Klose set history on Tuesday in the World Cup match against Brazil after scoring his 16th World Cup goal in a high 7-1 win against the Selecao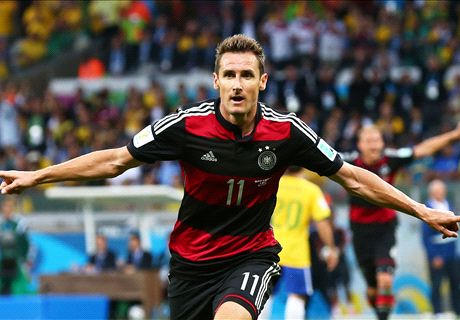 The German striker has now written his name in golden letters in Football History. Klose has scored tonight his 16th goals in World Cup history , breaking the record of brazilian Ronaldo and becoming the top goalscorer in World Cup history.
Klose did put a good performance in Germany's big victory against Brazil 7-1 at Belo Horizonte stadium. The 36-years-old scored at his second try after Julio Cesar saving his first shot.
The German striker has played in 4 World Cup's so far. At South Korea/Japan in 2002 he scored 5 times, scored another 5 goals in Germany 2006 , 4 goals in South Africa 2010 and 2 goals this competition in Brazil.
Klose , who was born in Poland has finally broke Ronaldo record of 15 goals, which was untouched after the World Cup 2006 that took place in Germany. Now he leads the list , with 1 goal more than Ronaldo and 2 goals more than his compatriot Gerd Muller.
The Lazio striker will have another chance of scoring in the final , which Germany will play vs the winner of Argentina / Netherlands match.
Watch Match : Brazil 1-7 Germany goals