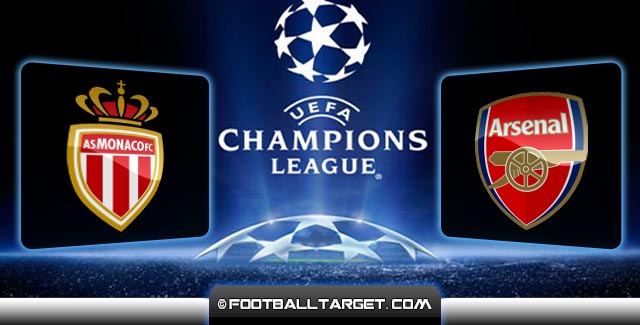 UEFA CHAMPIONS LEAGUE
March 17, 2015 • 19:45 • Stade Louis II., Monaco
Referee: S. Moen
A home defeat in the first leg match in London was one of the most painful for Arsenal in the last ten years, and in the second leg the English club will have to score at least three goals to have a chance of progressing further, but, on the other side stands the team with the best defence in the Champions league competition this year.
Arsenal are in Monaco hoping to become the first team in the Champions League era to ever qualify after losing a home first leg 3-1.
Monaco have made what can be called a miracle in the first leg in London by winning 3: 1, and ahead of the second leg match the question remains, can the Gunners score three goals in France and avoid a fifth consecutive elimination from the Champions league knockout round?
Individually, Arsenal are certainly a better team, but in the first game in London that he did not mean anything against the perfect defensive team like AS Monaco, which reminds us of Greece national football team at the European Championships 2004 in Portugal.
It's suffice to mention the fact that AS Monaco in the last 13 matches in the Ligue 1 competition did not concede any goals 11 times. Excluding Cup defeat against PSG, Monaco recently are in great shape and they continue to hunt the third place.
Monaco have made a huge step towards the quarter-finals, but precautions are not lacking so some of the key starters were rested for the Tuesday's re-match vs Arsenal.
Monaco boss Leonardo Jardim claims that his players won't think a lot about result from the first game.
"We will approach this game like we did for all the other Champions League games this season. We will not think about the result, just to play."
"At this stage of the competition, all teams behave the same way. I do not think Arsenal underestimated us. It was us who played a great game in London."
"When we face a team like Arsenal with a wide range of great players we do not take it lightly. We must try to put our game up, like in the first match."
On the other side, Arsenal boss, Arsene Wenger believes that his team is capable of producing a miracle in France, despite saying that his side are no favourites in France.
"We now go to Monaco and come out of a big week because we played at Man United, we played a derby," Wenger said. "We need belief to prepare well so let's do that.
"After that we'll see. If you have no belief, you have no chance. We have to believe we can do it and give everything.
"We know this time Monaco are favourites so we have to go there, give absolutely everything and come back out of the game with that feeling."
– Defeat in the first game was a surprise, given the very good form of my team. We have another chance and we want to take it, and prove that we can go back after such a large backlog from the first game – Wenger hopes, who of course is planning an offensive from the first minute and preferably an early goal that would create a huge psychological pressure for Monaco.
– We must score three goals, and our goal is to do just that. It will be difficult to score three goals a well defended side as Monaco, but if for example produce a game like against Manchester United, I think we can go further.
Team probable players
Monaco: Subašić – Toure, Carvalho, Abdennour, Kurzawa – Moutinho, Fabinho, Toulalan, Kondogbia – Dirar, Berbatov
Out: Bakayoko, Traore, Raggi, Kondogbia (?), Toulalan (?), Ferreira Carrasco (?)
Arsenal: Ospina – Bellerin, Mertesacker, Koscielny, Monreal – Cazorla, Coquelin – Walcott, Özil, Sanchez – Giroud
Out: Arteta, Debuchy, Diaby, Oxlade-Chamberlain, Rosicky, Gabriel, Wilshere