English city rivals from Manchester, United and City,Chelsea FC as well as the French new champion PSG are ready to pay 94 million euros for Tottenham Hotspurs´ superstar Gareth Bale!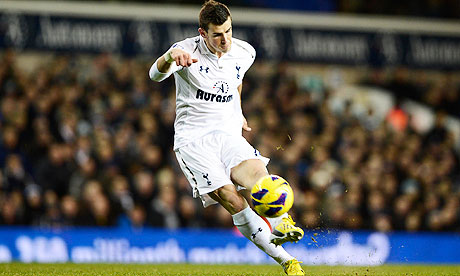 The most wanted footballer this summer Tottenham attacker Gareth Bale (24) could achieve a record price when it comes to transfer of one player from the United Kingdom. According to the British media Manchester United, Chelsea, Manchester City and Paris Saint-Germain are ready to pay 94 million euros for the Welsh players.
Real Madrid is ready to offer 70 million euros and Gonzalo Higuain for Gareth Bale, and President of the "Royal Club" Florentino Perez said that Bale was born to play at Real Madrid.
However, in Tottenham camp they want to keep Bale, since his contract is valid for three more years, and then the next summer to sell Bale for a huge amount. Also, Tottenham would prefer to sell Bale abroad than to rivals from the Premier League.
Otherwise, the Spurs have brough Bale in 2007th from Southampton for eight million euros.