The biggest transfer of this summer 2012 has achieved Thiago Silva with his switch from AC Milan to PSG,but close to him was Eden Hazard, for whom Chelsea have paid to Lille a whopping 40 millions! Next in the line is former striker of Napoli, Lavezzi, whose departure to PSG cost them only slightly less than 30 million euros.Its clear that until now PSG has hit the top of the list of clubs which have spent the most this summer,but transfer window is still opened and we could see more big transfers.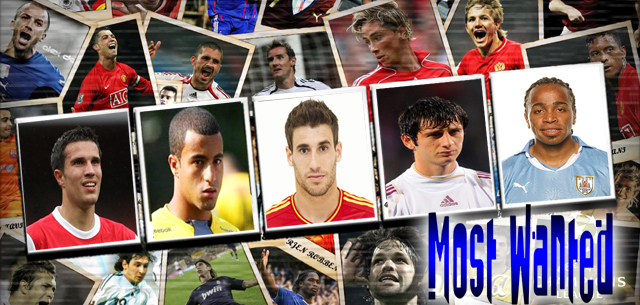 While they are a lot speculations about big transfers of Hulk, Luka Modric and Fernando Torres,some other players have sparked the interest of the majority of clubs. About them lots of football portals are still buzzing, and we have singled out five of them,which the most of the clubs sees as an ideal reinforcement.
Robin van Persie, 29, striker, Arsenal
Wanted by: Man City, Real Madrid, Juventus, Man Utd, PSG, Anzhi Makhachkala
After eight seasons and 279 appearances Robin van Persie probably is leaving the 'Gunners'. RvP said that he wants to finish career by winning some trophies, and that it can not be achieved with Arsenal for who he scored 96 goals and had 52 assists, in cup matches 16 goals and two assists while in the Champions League 20 goals and nine assists.
Only in the last season, he has scored even 37 goals in 48 games, but if van Persie does not extend the contract, Arsenal will have no choice but to sell him this summer,at least if they want to receive any compensation.
Arsenal is setting a big price for his best player,and van Persie himself have a huge appetite with the asking wages,which is the reason why he not already found a new club.
List of interested clubs is expected big, but everyone will think twice whether to invest a huge amount of money in the player who is in late twenties, and who is explicitly linked to the Arsenal´s style of play.
Lucas Moura, 19, Attacking midfielder, Sao Paulo
Wanted by: PSG,Inter Milan, Real Madrid, Man Utd, Chelsea
Dribbler without equal in Europe probably since Ronaldinho´s era,could make a switch soon from Brazil and play in one of the biggest Europe clubs.With only 19 years,he has collected 15 appearances for Brazil,and only that information is sufficient evidence of his quality, although he rarely begins in the first team.
For his services are above the most interested in Man Utd (Man Utd made the official bid-Read more) and Real Madrid, and Lucas himself have told he is not indifferent to the calls of such European giants. Brazilian clubs have become more and more richer and so more and more heavier negotiators, and so will be this time as well.
Lucas Moura,certainly has the football knowledge that is already adequate for playing on the level which is required at the Europe top leagues, and the only question is the speed of adjustment to the European football, whose pace is quite different from the Brazilian.
Javi Martinez, 23, central defender, defensive midfielder, Athletic Bilbao
Wanted by: Bayern Munich, Real Madrid, Barcelona, Man City
Some of the best stoppers in the present, in some phase of juniors career were playing in the midfield (David Luiz, Gerard Pique …), and on that road is headed and a young Basques, who until this season has played on a defensive midfield position.
It is precisely the element of technical sophistication what adds him the value, because in addition to the defense motion and innate fighting spirit he can carry the ball and led the attack. Martinez also is showing an atypical level of technical skills for a player the last line of defence.
Change from the midfield to the stopper he can thanks to the current coach Bielsa, who appointed him to that position because of an emergency, and because of his natural predisposition. Exactly that kind of a defender today needs lots of clubs, but Bilbao doesnt intend to let him go below at least 25 million bid.
Alan Dzagoev, 22, Attacking midfielder, CSKA Moscow
Wanted by: Arsenal, Tottenham Hotspur, Borussia D., AS Roma, Bayern
For years he is standard player of the powerful club,CSKA, who have successfully coped with the best players in the Champions League. Nevertheless, it is only the recently finished Euro 2012 which promoted Dzagoev among the most wanted players in the world, because with three goals scored Dzagoev was one of the best scorers of that competition.
Dzagoyev is a player who seeks cooperation with teammates, but his great sense of space and running-in behind the last line of defense, linked with a concentration in the final stage(in front of goal) makes him very effective and dangerous player in the offensive part of the midfield.
However, we all know how difficult is to buy some player from CSKA Moscow, so his staying in Russia, despite the enormous interest, in fact is the most likely outcome.
Alvaro Pereira, 26, left back, Porto
Wanted by : Inter,PSG, Chelsea, Man Utd, Tottenham Hotspur, Napoli

Left defender/midfielder who at the beginning of last season almost sign for Chelsea, along with former coach Villas-Boas, again is drawing attention all over Europe.
Although it was thought that his move to Chelsea is a matter of formality, there was interest from other clubs and now follows the bidding. It is known that the side-backs of a big class, today is a luxury that just a few teams have, so it is great demand for him.
When Porto during the winter has paid huge 10 million euros for the young Brazilian Alex Sandro, it was clear that this summer they will be ready to negotiate about Pereira´s departure. However, Porto has never sold cheap, and considering the number of interested clubs, the price for him could be the big one.
B.Z