Jose Mourinho's Chelsea side scored a late winner from a Willian free kick against Dynamo Kiev last night to secure a welcome 2-1 victory and ease the pressure on their beleaguered boss.
Chelsea, last season's Premier League Champions, have endured a horrible start to the season on the pitch, with the club, especially Mourinho, also encountering plenty of controversy off the field of play.
They started badly by losing the Community Shield 1-0 against Arsenal. They have already lost six league games this season, double the amount of league defeats suffered last season; losing to Manchester City, Crystal Palace, Everton, Southampton, West Ham United (where Mourinho was sent to the stand at half time) and, most recently, Liverpool. They have also drawn games at home to Swansea City and away at Newcastle United, and currently sit in 15th position, just four points above the relegation zone.
They are toiling in what looked a relatively easy Champions League group, losing to Porto in the Estadio Dragao, and 0-0 drawing away in Kiev, and just last week they exited the League Cup, losing to Stoke City on penalties.
So just where has it all gone wrong for last season's runaway Champions? Most concerning of all is the downturn in form of Eden Hazard, who was Player of the Year last campaign. He has found himself dropped to the bench in recent times, but he is not the only player struggling for form.
Diego Costa had nine league goals by this stage last season, this time round he has only found the net twice. Branislav Ivanovic and Nemanja Matic, two Mourinho stalwarts, have been poor, as has Cesc Fabregas. Fabregas, reportedly the leader of a player revolt, has been benched in recent weeks. Even Mr Chelsea, John Terry, has had to sit out games, and suffered the ignominy of being hauled off at half time against Manchester City. Of all the players selected so far, only Willian has performed anywhere close to what is expected.
There is a theory that Jose, through the physical demands of his style of play and lack of squad rotation, burns his players out. Fabio Capello, former Juventus, AC Milan, Real Madrid and England manager, certainly seems to think so. He said:
"Mourinho burns out his players after a year and a half, at most two years. I had already heard it when he was in Madrid and now we have confirmation in London."
Looking back on Mourinho's career, the longest stint he spent at one club was first time round at Chelsea, where he lasted just over three years after his initial success had started to wear off, only claiming the League Cup in his final full season before struggling at the beginning of the next.
At Inter, he had two years of almost unlimited success, winning two Scudettos, a Coppa Italia, an Italian Supercup and a Champions League, before departing to Real Madrid. Perhaps he was aware he had done all he could with an aging squad, and wanted out while the going was good.
In his three years in Madrid, he won only one La Liga title, one Copa del Rey and one Spanish Supercup, although he was up against a great side in FC Barcelona. He did however have many disputes with star players in his final year, with Iker Casillas, Sergio Ramos, Pepe and even Cristiano Ronaldo all having spats with the manager at some stage.
Perhaps Mourinho's problem is a combination of factors: player burn out through lack of rotation, his spiky personality leading to fall outs with star players, and his constant courting of controversy in the media leading to problems for his team and club.
Jose has a big job on his hands this season to prove he is capable of building a dynasty and proving he is one of the best of all time, like Ferguson, Shankly, Stein et al, rather than a manager who can bring short term success before moving on.
What Chelsea fans think about Mourinho, perhaps the image below says all..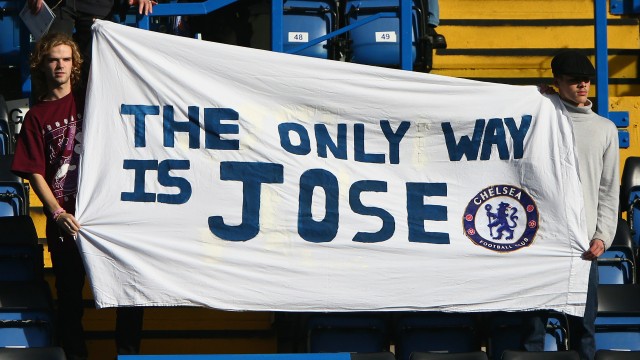 But…for how long?