Everton could continue recent good run if they manages to achieve victory in this match against Norwich City team and certainly,this is exactly what they will try to do at Carrow Road on Saturday afternoon.
Norwich currently occupies 12 place on the table ,and with 39 points they may have less pressure than the larger and stronger teams that have more money available but found themselves in a more difficult situation than they are now.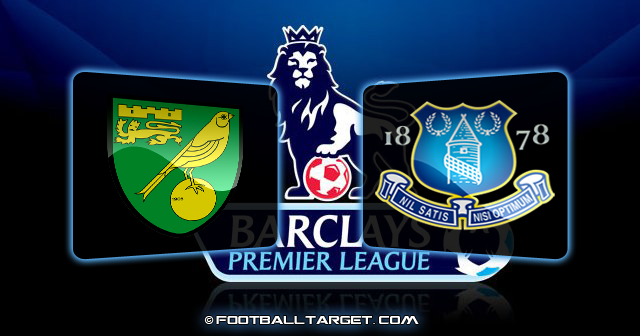 Paul Lambert certainly deserves great praise for work he done with his players who managed to do this year pretty much what they hopes so, but as the season progressed until now, there is a feeling of a certain fatigue among the players who obviously can not to withstand the pressure of the Premier League and with the remaining seven rounds to the end its certain that they have a few games in which they need to record a victory by what they certainly avoid the possibility of falling into a lower ranking competitions.
Norwich footballers on their last 4 meetings have taken only 4 points and in the last match against Fulham ,Norwich have played very well but not enough to take one point and it is certain that the players after a drop in form,are coming in this match with some uncertainty, which could be fatal for them,as team like Everton will try to use.
Regarding this meeting, Paul Lambert will not have available Declan Rudd, Daniel Ayala, Marc Tierney, James Vaughan and the question mark is Anthony Pilkington so, in this duel we probably going to see the 4-4-1-1 formation in which could be found Ruddy, Naughton, Ward, Bennett, Martin, Surman, Fox, Howson, Bennett, Hoolahan and Holt
The visiting team,Everton had a very difficult season, but things began to turn in the desired direction that suits their ambitions and success in the FA Cup is a sure sign that this team has found what they are looking for so long.After bad start in Premier league,they were little of those who believed that this team is able to create something after the performance at the start of the season, but David Moyes's team just did what was asked of them and they won the matches in which they had to and shifted themselves among the top ten teams of Premier League.
Arrivals of Steven Pienaar and Nikica Jelavic in the winter transfer window was apparently the right decision,which have improve the play of Everton likewise the results.
As for the injury´s in for Everton,under question mark are Jack Rodwell, Seamus Coleman, Royston Drenthe and Leon Osman who was replaced in the match against West Brom team and if he does not feel the best it could very easily be substitute withVictor Anichebe. For this match expecting formation will be 4-2-3-1 in which we could find Howard, Hibbert, Jagielka, Heitinga, Baines, Gibson, Fellaini, Pienaar, Cahill, Anichebe and Jelavic.
Prediction : We could expect a strong defense from home team, but if Everton find a way to come up to goalkeeper Ruddy they could record another win.But to be sure,its best to play Everton not to lose.
Watch this match live from our live stream section