The Italian striker "Why Always Him" Mario Balotelli on Monday and officially became a member of the Premier league vice-champions Liverpool, with whom he signed a "long-term contract," Liverpool revealed the news.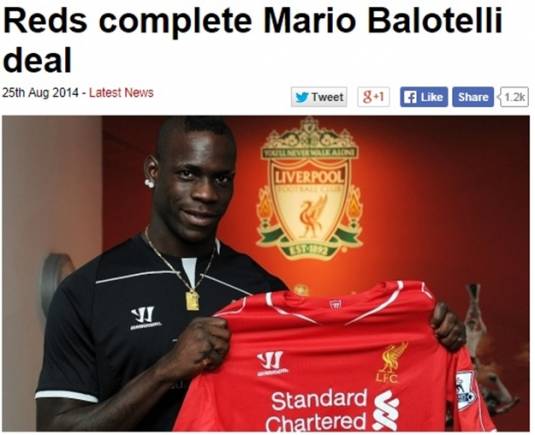 Screenshot : liverpoolfc.com
Balotelli thus returned to England after only one and a half seasons in Serie A and AC Milan. Liverpool boss Brendan Rodgers expects that Balotelli replace the Uruguayan Luis Suarez who earlier this summer joined Barcelona FC.
"I'm very happy, Liverpool is one of the best clubs in England, and here football is at a high level. Return to Italy was a mistake, English football is much better," said Balotelli.
The transfer bid was not revealed but it's speculated that Liverpool have paid to AC Milan arround 16 million pounds.
Balotelli's professional career began at Inter Milan, from which in 2010 he moved to Manchester City in which he played until January 2013 and going to AC Milan.
Mario Balotelli arrived yesterday in Liverpool for a medical, and on Monday from the stands was wathing his new club Liverpool losing 3-1 to his old Premier league club, Manchester City.