Paris SG and Chelsea played last year in the quarter-final, when the French side at home celebrated with 3-1, but the London club at Stamford Bridge scored two goals without conceding any and clinched the semi-final place due to away goals. This year both team look even stronger and eye a step further in Champions league, but it wont be an easy task for the French champion who last Saturday lost four key players to injury against Caen.
UEFA CHAMPIONS LEAGUE
Paris Saint-Germain – Chelsea
February 17, 2015 • 19:45 • Parc des Princes, Paris
Referee: C. Çakιr
Match Highlights & Replay – available after the game end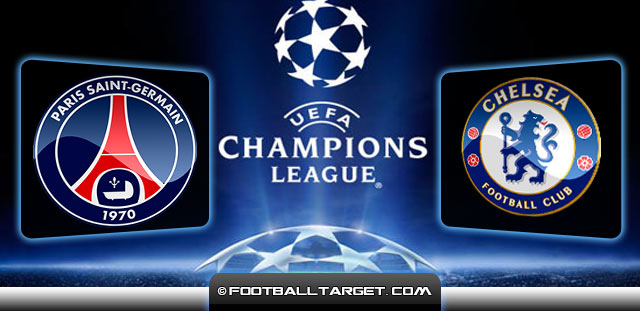 Paris Saint Germain's test game for the big clash with Chelsea was not successful. Caen in the last few minutes after going 2-0 behind took a point from the Princes, but the worst thing than that is that Blanc lost four players at that match due to injuries. Surely we must emphasize the fact that Parisians this season have not yet been defeated at home, and they are currently in a series of seven wins and two draws, so the Blues will have a tough job beating the French side.
PSG definitely will be without Aurier, Cabayea and Lucas, and Thiago Motta. Marquinhos and Matuidi could be ready while the only good news is the recovery of Javier Pastore.
– The situation is not ideal, but we must accept it. Those who are fully ready, will play. We have enough quality players with experience in games like these – commented coach Blanc.
The attack will lead Cavani, while Ibrahimovic will have a role behind him. Such experiment have failed in the recent derby with Lyon, but there is no doubt that this plan in the meantime was further coordinated.
– I expect a lot from Zlatan, as well as from all others. He has to be more dangerous in attack, but also he has to play defense. On the field there will be a lot of great players – said Blanc, adding that the key to seal the semi-final place will be – defence.
PSG Probable lineup : Sirigu, Marquinhos, Silva, Luiz, Maxwell, Matuidi ? , Verratti, Lavezzi, Ibrahimović, Pastore, Cavani
Without any defeats and with 17 goals netted, the most of all teams, Chelsea routinely passed the Champions League Group Stage, and now comes the real thing, in which Jose Mourinho has a doctorate, and that's the knockout stage of the competition.
Chelsea have a peaceful situation in the Premier league, sitting at the top above Manchester City with seven points more. In the Carling Cup the Blues await the final against Tottenham, which suggest that Mourinho can throw all cards in for two encounters with PSG.
In Paris guests from London come knowing that Paris SG have not lost a bit incredible 32 European games in the series, but to reflect Mourinho with all teams which he led in his career from 15 games, lost only once, winning 11 times.
– We fear no one, but we know that PSG are strong team. Last season we were close, but the team did not play at such a high level. Now we dream of ultimate success.
– I think that Costa is in the best shape as opposed to Drogba and Remy, but he will start from the first minute tonight.
While Obi Mikel is out, the Brazilian Oscar is doubtful so the first lineup is not yet sure. If Oscar could manage to play he will be on AMF behind Costa in system 4-2-3-1, Fabregas would on the defensive midfielder with Matic, but if the Brazilian fantasist can not make it, Fabregas will take his place, and the role of defensive midfielder should take Ramires.
– Paris Saint-Germain is a great team that beat us last year in Paris, but we've knocked them out in London. They are now stronger for David Luiz, while almost nothing except that Blanc has changed. Now we have a different style of play, we are more attacking oriented.
– I think that small details will decide, and that the Parc des Princes will see Chelsea in different style than last year.
Chelsea probable lineup : Čech – Ivanović, Terry, Zouma, Azpilicueta – Matić, Fabregas – Hazard, Oscar, Willian – Costa