You can watch this match live in our live match section – Live football streams
After AC Milan trashed Gunners by 4-0 in first leg of Uefa Champions league,Gunners need not a less then a miracle to procede to semi finals of Champions league,and if they manage to do it,they will be just just the fourth team in the history of UEFA competition to overturn a four-goal first-leg deficit if they can achieve the massive task on Tuesday..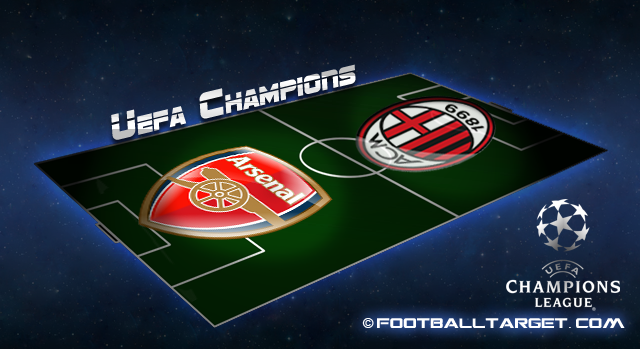 After 4-0 loss,Arsenal turn to Premier league where they get plenty of confidence after beating Liverpool 2-1 ( Video) and Spurs 5-2 .In bot matches they were losing,but manage to comeback and win.On the other hand,there is very strong AC Milan,currently lying on the top of Serie A with their striker Ibrahimovic who is in amazing form.This week they trash with the same result as Arsenal,Palermo on away match where Ibrahimovic scored 3 goals,in 13 minutes(video).
Milan is in great form,currently they are on a run of five consecutive matches without defeat in all competitions and sit three points clear atop Serie A.
But Arsenal manager Arsene Wenger belives his team have ability to overcame 4-0 deficit from the first match.
We want to make the impossible possible – that is our target. It seems impossible but you have to play with belief and think you can do it," Wenger said.
"You never know in this game. Maybe I will change individuals in the team and go for it and see if we can put them under pressure and try to score goals. We have nothing to lose."
"If we have the attitude we showed against Spurs, nothing is fatal. We have talented players up front."
After loosing several player due to injurys,Wenger is thinking about changing formation..
I'm tempted to change formation
"I am tempted," said the Frenchman. "At the moment, basically I have only two midfielders, [Alex] Song and [Tomas] Rosicky. That means we have to play with four strikers.
"We can play any system you can imagine until tomorrow night. But I will not tell you that now.
"I am tempted [to play Oxlade-Chamberlain down the middle], we will see. I have 24 hours and I have to see if Rosicky is available or not. If he is not available then I will be in a very difficult situation, because I don't know what I can do then.
"I hope he will make it. He told me yesterday [Sunday] that he will. But the medical staff are not sure.
"I can play six strikers if I want, I have enough. I have Chamakh, Park, Van Persie, Gervinho, Walcott and Oxlade-Chamberlain. I can take a risk, because I have no choice, basically.
Possible line-up
Arsenal (4-2-3-1): Szczesny – Sagna, Koscielny, Vermaelen, Gibbs – Arteta, Song – Walcott, Rosicky, Gervinho – Van Persie.
AC Milan (4-3-1-2): Abbiati – Abate, Nesta, Thiago Silva, Mesbah – Nocerino, Van Bommel, Ambrosini – Emanuelson – Ibrahimovic, Robinho.
Prediction : Arsenal need to score 4-0 goals and still not to concede one,which will be hard task for them.But match with galor of goals would be possible.So prediction is over 2,5 goals.
Highlights :