April 24, 2012 2:45 PM EDT
Camp Nou — Barcelona
Match : Barcelona – Chelsea,Champions league
Although many expected a different outcome in the first semi-final match at Stamford Bridge, Chelsea's players in front of their fans come up to minimum advantage in front rematch at the Nou Camp (Chelsea 1-0 Barcelona Highlights), so they are now in somewhat better position than their rivals. But now they will definitely have a much harder task to defend themselves from constant attack and pressure of Barcelona, because the match plays in their stadium Nou Camp, which is much broader, and certainly will have a major wind in the back by their fans.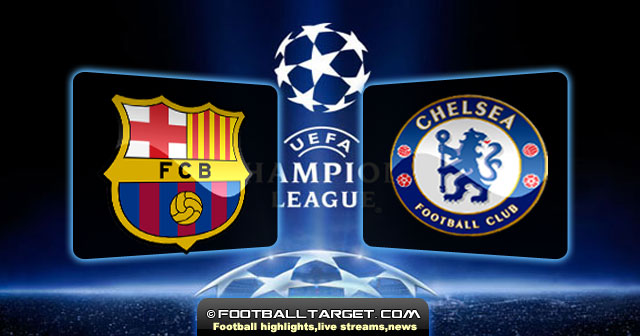 Nonetheless, chosen of coach Guardiola are now focused maximum on the Champions League, because last weekend at home in El Clasico they were defeated by their rivals Real Madrid ( Barcelona 1-2 Real Madrid Highlights), and thus probably lost any chance to defend the trophy in the La liga.
Specifically, their gap for the royal club is now seven points,and by the end of the championship are just four rounds remaining, so it is really hard to expect that Mourinho chosen blunder three times. When we have to mention this last defeat of Barca, we have to point out that theyin a long time were completely harmless in the attack, and it sounds completely unbelievable and the fact that the world's best footballer Lionel Messi during the 90 minutes has failed to threaten Casillas.
However, in the first semi-final duel against Chelsea in the Champions League, the situation was much different, because the Catalans have had as many as 24 shots at the goal, but they definitely were not the luck favourites, while on the other hand their opponents scored from a single shot on goal. All this tells us only that at the Nou Camp we should watch the complete domination of Barca, which will certainly have a great desire to redeem themselves to their fans, and they aware that they must be extremely offensive, since to get through to the finals Champions League they need to win by two clear goals.
That is why Guardiola announced that he will send their strongest team, in which should be recovered Pique and Fabregas, while the Abidal and Villa ares still out.

Barcelona probable lineup: Victor Valdes – Dani Alves, Pique, Puyol, Adriano – Busquets, Xavi, Iniesta – Sanchez, Messi, Fabregas
We have already said that the Chelsea players did a great job six days ago at his Stamford Bridge, but also themselves know that now expects them the toughest test as guests at the Nou Camp, where in recent times rarely some team managed to avoid defeat . However, it happened just last weekend in "El Clasico", and coach Di Matteo will likely to try to set up a similar tactic as Mourinho, but more defensively, because Di Matteo himself is aware that in the attack he does not have such fast players like Ronaldo di Maria and Ozil.
However, they will be dangerous in counterattacks, and also from the breaks, where they have great jumpers, so it should be expected to attempt as much from them to play on Drogba as the target player, for who is already known that he is a true master of the duel game and still can extort a few fouls on the opponent's half . However, we believe that their main purpose will be to preserve as long as possible clean sheet, because on that way they will put more pressure on Barca players , which from other hand it could be used to obtain an extremely important goal.
But all this is much easier said than done, especially when we know that this time Barca certainly will be much more dangerous and offensive, so for the guests from London is very important that the players keep their main force during the last weekend because Di Matteo in the city derby with Arsenal on the pitch sent a combined team, who eventually managed to remain undefeated, and with clean sheet. Otherwise, due the injurie Luiz is the only player outside competitions for this match with Barcelona.
Chelsea probable lineup: Cech – Ivanovic, Cahill, Terry, Cole – Mikel, Raul Meirelles – Ramires, Lampard, Mata – Drogba(Torres)
Prediction :
After they were defeated somewhat unlucky in the first match at Stamford Bridge, and then at their stadium in the 'El Clasico' against Real, we believe the time has come to Barcelona footballers finally capitalized their apparent superiority in midfield, and given that for the passage to the Champions League final they must win by two clear goals, we also decided to use exactly this type.Barca to win,to score at least two goals.


Watch Barcelona 2-2 Chelsea Full match video
After knocking Spanish giants,London´s Chelsea on penalty lottery won their first European winner tittle.