April 24, 2013 2:45 PM EDT
Signal-Iduna-Park — Dortmund
Referee:‬ B. Kuipers‎
Borussia Dortmund v Real Madrid Live streams
Borussia Dortmund trained on Tuesday ahead of Wednesday's UEFA Champions League semi-final against Real Madrid and fans reacted to news that playmaker Mario Götze will join Bundesliga rivals Bayern Munich in the summer.
Borussia Dortmund fans watched as their team trained for their UEFA Champions League semi-final first leg against Spanish side Real Madrid.
There was an air of disappointment among supporters with news that Mario Götze will be leaving at the end of the season to join Bundesliga rivals Bayern Munich for a reported fee of 37 million Euros.
One fan outside Dortmund's training complex said "I personally just think that Mario Götze has made a fool of the people. I mean he has extended his contract and he has said that he likes it here in Dortmund and now he has secretly signed a contract".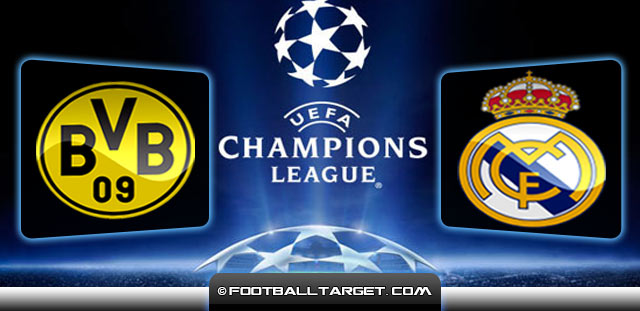 Another supporter believed money was the motivating factor for the midfielders move: "I think that this is an absolute disgrace that he will move all of a sudden. Three months ago he said that he can't imagine playing for another Bundesliga team other than Dortmund. Money rules the world."
Dortmund have played Real Madrid twice already in this season's Champions League group stage, they were 2-1 winners at home in October and drew 2-2 away at the Bernabeu in November.
They warmed up for the match with a 2-0 home success over Mainz in the Bundesliga on Saturday, while on the same day their opponents Real Madrid were 3-1 winners over Real Betis in La Liga.
Juergen Klopp, Borussia Dortmund manager (On opponents Real Madrid):
"Madrid are one of the best teams in the world. They know how to play every way possible, and we also know more than one way to play. It's a semi-final and we totally know which result we need to be in a good position in Madrid. We will play a good game, we know the qualities of our opponents, but you can't seriously expect me to tell you here and now how we are going to play tomorrow."
Real Madrid head coach Jose Mourinho looks ahead to their UEFA Champions League semi-final first leg against Borussia Dortmund on Wednesday.
Jose Mourinho, Real Madrid head coach:
"I don't know Juergen Klopp very well, but I think very highly of him as a person and as a coach. He is very authentic and very honest and if he says that he doesn't think about Real and only concentrates on his teams game then I must expect them to play an offensive game in which Borussia will fight for every ball. I say again I don't know him well, but he seems to be very honest, so that's what I expect from them."
Jose Mourinho, Real Madrid head coach:
"In relation to the match of tomorrow I think that are in the semi-finals four of the six teams that almost everybody was waiting for. Sometimes arriving in the semi-final a surprise team, somebody that was a real surprise during the competition, that's not the case. I think almost everybody was waiting for these four teams to be in the semi-finals, maybe Juventus, maybe Manchester United, but it's about these five (or) six teams. So it is a semi-final where I think it is difficult to predict which team is going to play the final."
BORUSSIA DORTMUND probable lineup
Weidenfeller;Piszczek • Subotić • Hummels • Schmelzer;Bender • Gündogan;Błaszczykowski • Götze • Reus;Lewandowski
REAL MADRID probable lineup
López;Ramos • Pepe • Varane • Coentrão;Alonso • Khedira;María • Özil • Ronaldo;Higuaín