Wembley Stadium — London
Match : Chelsea  – Liverpool Live stream,FA Cup
May 5, 2012 5:15 PM BST
FA Cup is a major holiday of English football. The match is playing on their cult Wembley Stadium. Liverpool had already won the European Cup this season, but compared with the FA Cup, League Cup is irrelevant.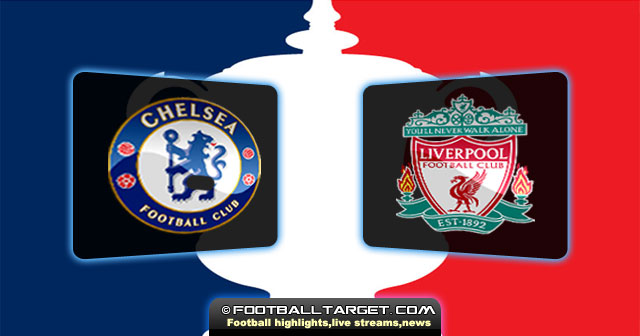 Since the match will be played at the legendary Wembley, "Blues" from London may have a slight advantage because they play in their city, but, the stadium will have the identical number of fans of both teams, then this should not mean anything special.
Otherwise, Chelsea in the Premiership is currently somewhat better placed and has 12 points more, but we must also bear in mind that the "Reds" celebrated in four of their last duel, including those from the current season, when they were two times better at Stamford Bridge, in the Championship and Carling Cup.
Therefore, for coach Di Matteo footballers maybe is good thing they are moving to another stadium, because there might have more luck, that will, with great fighting spirit, definitely need to finally overcome a very strong of Liverpool.
Also, their confidence is probably shaken after last weekend home defeat by Newcastle (Highlights), which in fact was their direct competitor for a place that lead in the Champions League.Sixth places "Blues" now have four points less than the "Magpies" and the Spurs, and five than Arsenal, so it will be really hard for them that in the last two rounds manage to grab Champions league spot, so it is almost certain that they will miss it after a long time playing among the best European club competition.
It was precisely this season they have made ​​a great success of placing themselves in the Champions League final, where they will in the middle of this month play against the German giant Bayern Munich in fight for the title of best European team.
All these mentioned results only tell us that on Saturday from Chelsea we can expect anything, because they are completely unpredictable, and probably one of the reasons for it is and constantly playing on multiple fronts, on a high level.
Because of this,it is very difficult to predict what lineup to it Wembley will send Di Matteo, especially as defenders Loiz and Cahill are still fragile and probably until the last minute will not know whether at least one of them will be ready for the Grand Final .
Chelsea probable lineup: Cech – Bosingwa, Ivanović, Terry, Cole – Essien, Lampard – Sturridge, Mata, Ramires – Torres
Watch Chelsea latest video news
If you for a team of Chelsea said they are extremely unpredictable, how then characterized Liverpool's performances this season, in which they, for the umpteenth time had really high expectations. However, they somehow justified all this in the English Cups, because they had already managed to win the trophy in the Carling Cup, while now follow´s them and the FA Cup, but except that,they failed again in the Premiership, where they currently occupied only eighth place.
What was definitely their greatest plague in this season are extremely poor performances at home, where Reds in 18 games played at Anfield record nine draws and four defeats, while only five meetings they resolved in its favor.
So in the last three rounds points from theirs "temple of football" took West Ham and Fulham, while between these two games "Reds" celebrated in Norwich, which only tells us that the chosen of coach Daglish obviously much better play out of their stadium, so now at Wembley stadium they should be far more involved.
Even more because it is given to them an opportunity to come to the second trophy of the season, which would reasonably calm their supporters, but also convinced themselves that next season may still do something more in the Premier league.
Regarding to the composition, we believe that Daglish after a short break in the match with Fulham, now again the opportunity will give to their finest and most experienced players, where injured midfielder Lucas and Adam will be the only players outside competition for this game.
Liverpool probable lineup: Reina – Johnson, Skrtel, Agger, Jose Enrique – Henderson, Spearing – Bellamy, Gerrard, Downing – Suarez
Watch Liverpool video news
Prediction : The importance of the match, and the fatigue of some Chelsea players should be crucial in Chelsea´s offensive game, so it is realistic to expect a lot of trench warfare on the middle of pitch, and under 3 goals.
Watch this match live from live stream,and watch full match highlights and full match video after the match at Footballtarget.