Only two rounds are left to play in the  French league 1 by the end , but before that the remaining match of the 34th round will  play nine placed Evian and fourth Lyon, who currently has 11 points more than rookies and one of the most pleasant surprises of Ligue 1.
Otherwise, their match  in fall on Gerland finished with a home win 2-1, while Lyon players celebrate against Evian and four years ago in the French Cup.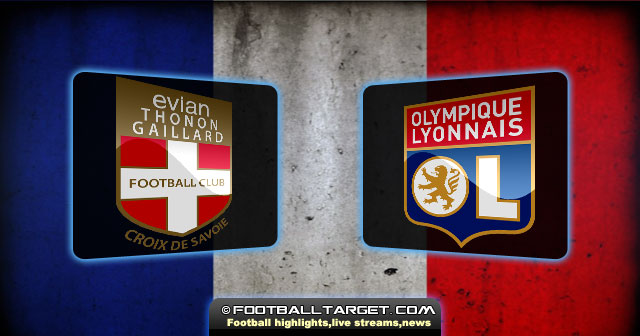 To this  ninth place on the table Evian footballers came largely thanks to great parties in the second part of the season, and particularly they were good in the last four rounds in which they have three wins and one draw as a guest of current leaders of Montpellier.
But what is also fascinating is truly enviable efficiency of Uruguayan coach Correa chosen ones, who in this period have scored nine goals, an average of more than two per match, so  against Lyon we can certainly expect their similar approach, especially because they are playing at home.
Besides, they are completely relieved of the imperative 'score, which is probably one of the reasons for such a good games that really no one expected in this finish of the season, because their opponents was the teams who needed points much more than Evian.
But ,obviously they are not too interested in that, so they are just trying  to compete with all opponents, so most certainly on Thursday evening they will try to find new points, no matter that their standard  defender Mongongo and attacker Khelife will not be available for this match, due to red cards in the match with Montpellier. Additionally, outside the team from before are still injured defender Ehret and experienced striker Govou.
 Evian probable lineup: Andersen – Dja Djedje, Angoula, Cambon, Wass – Rabiu, Sorlin – Berigaud, Kahlenberg, Barbosa – Sagbo
Regarding the current condition of a guest team, it can also beassessed as relatively good, although in the last round at home they only drew against Brest.
But we must bear in mind that the points to their opponents were indispensable in the struggle for survival, while they after two consecutive victories earlier consolidated on the fourth place which guarantees placement in the European league.
Even more as three days ago, theirs first companions  St.Etienne and Rennes  again spil some points, so the advantage of Lyon remained three points, which would probably be enough before the last two rounds, while they have the remaining  meeting with Evian also.
As for this match, we believe that the coach Garde will present something offensive formation, to get three points from this match and secure the fourth place. Otherwise, outside competition for this match from before are injured midfielders Ederson and Bastos, the defender Lovren is questionable.
Lyon probable lineup: Lloris – Réveillère, Cris, Kone, Cissokho –Gonalons, Kallstrom – Briand, Gourcouff, Lopez – Gomis