After two days of rest a new excitements of the World Cup in Brazil are following and in the first quarter-finals match this Friday at the famous Maracana we will watch the European classic between France and Germany, teams which together have 4 World Cup titles and Five Euro titles.
"Tricolor" and "Elf" so far have played 25 mutual matches in which France celebrated 11 times, while Germany enrolled 9 wins . Five matches ended with a draw while in the last seven matches France have lost only once to Germany.
Match Info
France – Germany – Live Streams
RIO DE JANEIRO. Maracana Stadium. Capacity: 74.738 spectators; Referee: Nestor Pitana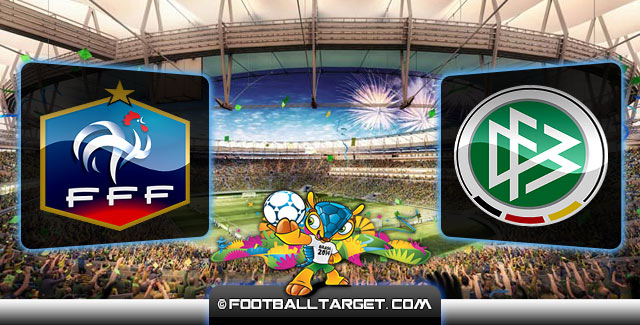 France is one of the most pleasant surprises of this World Cup competition , especially since they arrived in Brazil without their first star Franck Ribery. Although it is difficult to call the Les Blues a surprise, still from the shattered and repelling France team from the last World Cup in South Africa, Didier Deschamps made a team with " head and tail".
Deschamps perfectly created a players mosaic, established order in the team, created a climate in which players enjoy and look forward to. This can be seen on the pitch. If the Les Bleus manage to maintain this "peace" and superb atmosphere in the locker room, they could go far, really far.
"Everyone is talking about the World Cup title, but we are still far from that. 'We're only on the way to becoming a great team, but realistically we are still not. Match against Germany will show where we are" said Deschamps.
France had an easy job in the group stage, and they took advantage of it. Easy wins against Honduras 3-0 and Switzerland 5-2 already secured their knockout round place. The last group match with Ecuador 0-0 showed first problems but they played match with the South American side much relaxed and it the end the Les Bleus sealed the group first place and sent Ecuador team home.
France: We don't fear Germany
The knockout stage has brought the African team, Nigeria which proved to be a much harder team to beat. Still thanks to African goalkeeper Enyeama and his mistake France before the end of regular 90-minutes scored an opener. Enyeama rebounded one corner kick curved ball very badly, kicked it right to Juventus midfielder Pogba, who had an easy job to head it into the goal. Shuttered Nigeria, ensured an easier win for France after another corner kick, when Benzema's cross Nigeria defender Yobo sent in his own net. It was the only match of the last-16 knockout stage which ended in regular time, 90-minutes.
It was third match in a row in which the French team didn't conceded a goal. Koscielny started instead Sakho, while Griezmann has shown to Deschamps that he can be count on. This could be the only two changes in the starting lineup.
Probable lineup of France: Lloris – Debuchy, Varane, Sakho (Koscielny), Evra – Cabaye, Valbuena, Matuidi, Pogba – Benzema, Giroud (Griezmann)
Clash with France at Maracana stadium will be the ninth consecutive quarter-finals at the World Championships for Germany, which makes them the only team in history which manage to achieve that, still on the road to Rio and the quarter-finals Joachim Low's side did not impressed.
Mostly because of the tactics with the false nines and the decision to Philip Lahm in the middle like in Bayern and not at his natural position on the flank. German boss, Low , path to win seeks trough a ball possession like his idol Pep Guardiola, while the German supporters are asking Low to go back to the roots – game with the Strikers.
"We have not yet made ​​a decision on tactics, but maybe Lahm will be back to the side," reveled Andreas Koepke, assistant coach of the German team.
Neuer: Germany 'must improve'
Still the Elf reached the last-16 phase and the quarter-finals, so they accomplished what they want to. Group stage was not easy for them like for France as after the high 4-0 win over Portugal, Germany has some problems with Americans (1-0) and Ghana 2-2. The group stage Germany yet ended on the first place, and settled their clash with Algeria in the last-16 stage. Match which required an extra-time as the regular 90-minutes ended without any goals. Germans were better, but Algeria had their chances to even knock the Germans, but the Elf in the extra-time scored twice which was enough to set the clash with France.
Low Selector is faced with several problems, the biggest one is the injury of stopper Hummels, so Boateng has taken his position, while on the right flank jumped in Mustafa, who hasn't shown a lot. If Hummels couldn't start, Lahm probably will return to right side, and Khedira will step in midfield. Schürrle after entering from the bench was very good, which makes a new dilemma to Low, especially due to poor games of Mario Gotze.
According to the latest information's, a few German players caught a flu, and it remains unsure who is impacted and who will start, but if he can Low will send the best on the pitch.
Probable lineup of Germany: Neuer – Boateng, Hummels, Mertesacker, Hoewedes – Schweinsteiger, Lahm, Kroos, Ozil, Goetze – Mueller