Pre Match : Juventus vs Real Madrid Match preview, Team News, Lineups, Live Stream, Highlights – Champions league
November 5, 2013 7:45 PM GMT
Juventus Stadium — Torino
Referee:‬ H. Webb‎
Watch Juventus vs Real Madrid CF live online
Watch Juventus vs Real Madrid CF Highlights , Watch Juventus vs Real Madrid CF Full Match Replay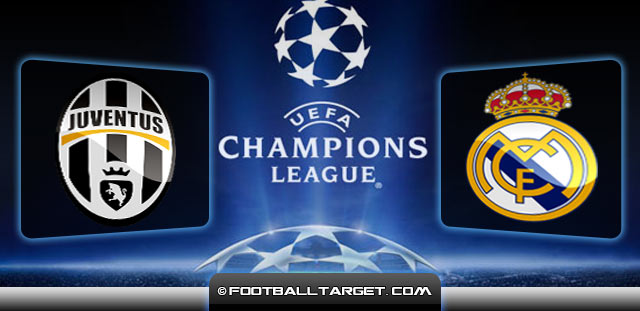 The Italian champion, Juventus, welcome Spanish side, Real Madrid to Turin on Tuesday, still looking for their first Champions League win of the season. It seems that Bianconerri struggle in the Champions league, despite having a team capable to produce much better results than they do, it falls to be or not to be, and a win against the Spanish Giant, is a must do thing.
In the last round of the Champions league, Juventus was close to take at least a draw, but Ronaldo´s diving resulted with a red card for Chiellini who will miss this game. The 10-man Juventus, at the Bernabeu, didnt had a chance, and Real Madrid celebrated with a 2-1 win over Juventus.
Both teams are currently on the third place in their domestic league, while the host can be encouraged by the fact that all three previous encounters against Real Madrid in Turin, Bianconeri decided in their favor.
JUVENTUS
Juventus after the defeat in Madrid, which was preceded by the first league defeat in Florence,despite leading 2-0, consolidated its ranks and now they are back on the winner's track. Juve enrolled three wins, two of them at home, against Genoa and Catania, and one away on Saturday at Parma.
In these games Juventus did not conceded any goals, which is also encouraging, as is the fact that this season Italian side, have not lost at home, and Galatasaray was the only team which manage to pull a draw.
Coach Conte in these matches again played with three defenders and five midfielders, but for this match, it was announced, once again that Juventus will start with four defenders. Since Chiellini is out, Bonucci will step in,  Asamoah could replace Ogbonna and Pirlo after the rest against Parma is back, while in attack with Tevez will be or Llorente or Quagliarella
REAL MADRID
Real Madrid regarding the Champions League, have done a most of the work and now the rest should be routine, although mathematically the Los Blancos still are not quite sure for the next round. Draw in Turin could confirm this, although by the end there are still two minor matches at home which awaits them, so in this match there there could relax a little.
After the first game where they were not brilliant, they lost to FC Barcelona in El Clasico derby, and smashed Sevilla with seven goals.
However, they conceded in this match three goals, and a similar thing happened on Saturday against Rayo Vallecano when they had a 3-0 lead and eventually won the match with 3-2, where the home team had a couple of opportunities to equalize.
In the last four games Real Madrid conceded at least a one goal, although coach Ancelotti constantly rotating defensive players. Marcelo and Arbeloa did not play on Saturday and will now almost certainly be in a team. It is expected that Xabi Alonso will be in midfield with Khedira, Bale on the right wing, while Isco could play except Luka Modric.
Probable Lineups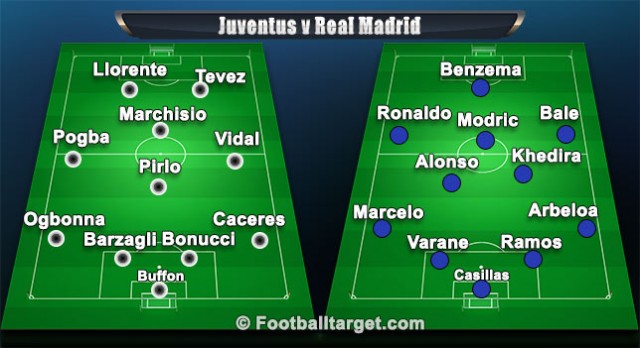 Match Prediction : None of the 15 previous European competition meetings between Juventus and Real Madrid have ended as a draw, and we do not expect a one here. Juventus must win, Real Madrid can relax a little, still their team is strong and we could expect something from them. So our tip would be both teams to score. You could take Juventus on asian handicap as well.