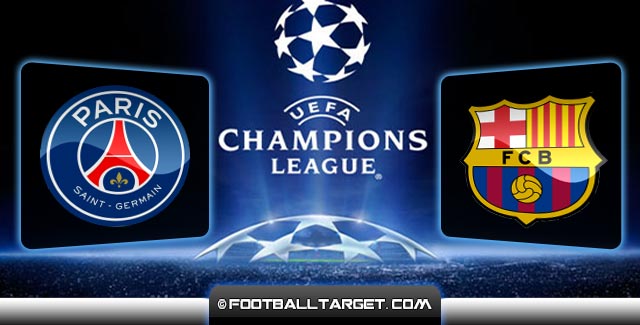 UEFA CHAMPIONS LEAGUE
April 15, 2015 • 19:45 • Parc des Princes, Paris
Referee: M. Clattenburg
PSG vs Barcelona Live Streams
Invested Arabic millions this season could certainly pay off for the Paris team. PSG currently is in the game for three trophies this season, and the first one Laurent Blanc's side have already won this weekend. It was the least important competition for Paris, the League Cup, but Bastia proved completely immature rival, and with a convincing 4-0 PSG cruised to first trophy this season. Two goals has scored Ibrahimovic while the other two Cavani.
Clash of PSG and Barcelona will be a replay of the quarter-finals in 2013 when the Catalan's side due to away goals reached the semi-finals.
The same rivals met this season in the group. PSG at Princes Park won 3:2, while Barca won at the Camp Nou 3: 1, but it was in the last round when both teams already secured passage on. Laurent Blanc's side reached the semi-finals last time 20 years ago, when AC Milan eliminated them, while Barcelona for the eighth time in a row is among the top eight teams in Europe. Catalans last season missed an opportunity to reach for the seventh time in a row the semi-finals when they were knocked by another Spanish side, Diego Simone's Atletico Madrid.
PSG
The French champion will be weakened as four important players will miss the first leg match. Zlatan Ibrahimovic and Marco Verratti are suspended, while David Luiz and Thiago Motta are out due to injuries.
"We have already shown this season that we can beat Barcelona. We have a lot of problems with injuries and we will have to play above our capability," said PSG boss Laurent Blanc.
Speaking of a win over Bastia and Ligue 1 race for the title, Blanc added:
"We would have liked to enjoy this victory to its full, but we don't have the time because we have to look towards Barcelona.
"We have enjoyed a superb week, the supporters too, with the wins over Marseille, Saint-Etienne and Bastia. We are in form and we need to continue in this vein."
– The last two seasons in quite frustrating way we dropped out of the Champions League, but with passing at Stamford Bridge we have shown that we have learned some lessons from all our previous mistakes, said Maxwell.
– It would be ideal to go to return without conceding any, but Barca is one of the few teams in Europe that can score to anyone, anywhere.
Barcelona
Unlike the host who in the League Cup did a routine job, Catalans this weekend dropped some points against Sevilla. It seemed that points from the Sanchez Pizjuan are safe for Barcelona after having a led of 2-0, but the hosts managed to score twice, take the point, and thus again complicated the race for the new Spanish champion.
Luis Enrique has no major concerns about absences. Daniel Alves is suspended and from before out is and Thomas Vermaelen. However, the Catalans deadly trio Messi – Suarez – Neymar is ready for this clash.
We need to be 'fully concentrated', says Barca goalkeeper
"PSG is a quality squad and we will have to reduce errors to a minimum. PSG will lurk for their chances and they are very dangerous," said Enrique.
– It is true that the host is having injury problems, but we must remember our first meeting this season when Paris was also without Ibrahimovic, and still beat us. On the other hand in the second leg Ibra played, and we won.
– I want to emphasize how Blanc at his disposal hs a wide squad of very good players and that regardless of the problems PSG are a great opponent. Especially we have to pay attention to counter attacks, free kicks and corners where PSG by me are the strongest.
Team probable lineups
PSG: Sirigu, Marquinhos, David Luiz (?), T. Silva, Maxwell, Rabiot, Matuidi, Cabaye, Lavezzi, Cavani, Pastore
Out: Ibrahimović, Aurier, Motta, Verratti, David Luiz (?), Lucas (?)
Barcelona: Ter Stegen, Alba, Mathieu, Pique, Adriano, Iniesta, Busquets, Rakitić, Neymar, L. Suarez, Messi
Out: Vermaelen, Alves