April 29, 2012 6:00 AM EDT
Estadio Santiago Bernabéu — Madrid
Match : Real Madrid – Sevilla Preview,La liga
These matches are always interesting and bear the title of the derby, although of course this season as well there is  huge difference on the table. It is certain that the game would be much more interesting if Real has not made ​​a big step towards winning the title  at "Camp Nou",but still they can not relax, while for Sevilla these are very important points in the fight to go on the European scene. In the first part of the season Real played  with Sevilla and beat them with 6:2, interestingly with the same result as last season, while the last two duels in Madrid,Real ended up winning.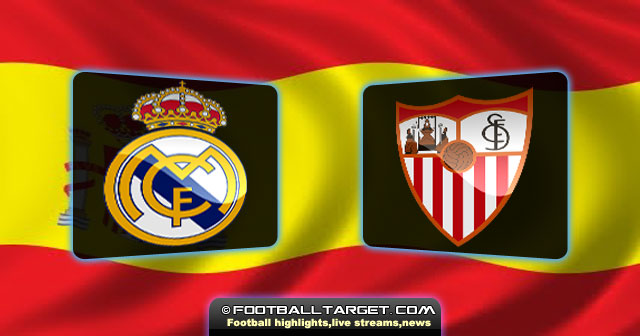 Real Footballers in just a few days felt the excitement of the game.From the big delight, came the big disappointment, and both situations have happened quite unexpectedly. In the national league at the Nou Camp, where they were expected to be in big problems, they played very well and fully deserved, even without the expected complete domination of Barcelona, noted victory that very likely means winning the title. After that they  should do the "easy" part and still beat the weaker Bayern at home.
They succeeded in this, but just with the same score by which they were defeated in the Munich. All went into a penalty-lottery and there Real  got embarrassed with three failures so with which  followed disappointing elimination. In Madrid lots of them talking about this match, and only occasionally is mentioned Sevilla, which could be dangerous

Title can still be lost and therefore against Sevilla, they must play very seriously. The coach Mourinho have not any suspended players, nor any problems with injuries, so the only question is whether he and how he is going to  change first team.Marcelo has got the advantage against Bayern ahead Coentrao,and it is very possible to be so in this game. In attack should play Benzema and Higuain which means Di Maria or Ozil could be on the bench,or prehaps both of them if Mourinho decide to put Kaka in the first lineup.
Real Madrid probable lineup: Casillas – Arbeloa, Pepe, Sergio Ramos, Marcelo – Khedira, Xabi Alonso – Kaka, C.Ronaldo – Higuain, Benzema
Sevilla still has problems with the form and they again integrally link the two matches without a triumph, while in the last four matches  they won only once. Before two rounds they  experienced a real debacle on their guest performances at Getafe where they were defeated with 5:1. It was completely unexpected heavy defeat, after a lot´s of good parties and even on tour. They even took the lead in that game with goal of Negredo who grabbed the right form and scoring in the series, but then they completely fell and received five goals.
Besides, because of yellow cards received in that game, the right to participate in Madrid do not have Medel and Manu del Moral, which is a big handicap. Fortunately, Reyes recovered, and yet are ready goalkeeper Palop and defender Spahic
Sevilla probable lineup: Palop – Coke, Fazio, Escude, Fernando Navarro – Trochowski, Rakitić – Jesus Navas, Reyes, An.Luna – Negredo.
Prediction : In the ranks of Real Madrid are now definitely mixed feelings after Barcelona and Bayern Munich. One trophy will not win, but the second is  so close to them, so maybe Sevilla could  "pay a price"  for the frustration from Wednesday. Guests at the "Bernabeu" come weakened and come with two heavy defeat of Real Madrid in a row. The new so,will be hard to avoid.Real Madrid to win,over 2,5 goals,and its good to try Cristiano Ronaldo to score.