Everything is resolved in this group, at least when a place in the third round of the Champions League is at stake. Real Madrid is safe, team of Mourinho will be the second placed, so this game for them is only a matter of prestige, while Ajax has lost an opportunity for the knockout round, but still,the Dutch want to reach the Europa league, and for that they need to remain a third placed team,and only a victory in Madrid ensures them that.The other option for them,is to hope that Man City will lose a game in Dortmund.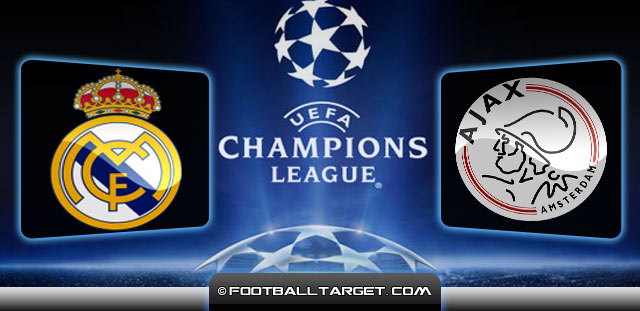 In the last three matches of these teams both have the same effect, and that is defeat, and then two victories. Last weekend both teams enrolled a home victories,while their last mutual encounter in Amsterdam finished with a victory of Real Madrid.
Otherwise, in the Champions League competition so far they have met five times and each time has celebrated Real Madrid,while Ajax has scored just one goal in those matches and this was in their last encounter.
Against Atletico Madrid,Cristano Ronaldo after a little break has finally scored,and with this Mourinho can be much relaxed.Except a goal,Cristiano Ronaldo has added and one assist,Ozil was the scorer.
With 2-0 victory,Real Madrid is still the third placed team,but the gap is cut to 5 points in relation to Atletico.
Arbeloa is out for this match,and Real Madrid coach,Jose Mourinho probably will give a rest to few players.
Real Madrid probable lineup:Adan – Raul Albiol, Varane, R.Carvalho, Fabio Coentrao – Khedira, Modric – Jose Callejon, Kaka, C.Ronaldo – Benzema.
Borussia in the last round of Champions League in Amsterdam with a victory of 4-1 has sunk the dreams of Dutch which were hoping that they can qualify for the next round of the Champions League.
Now,Ajax would be content with third place, but even this is a questionable, because if they fail to win in Madrid,and Man City celebrates in Dortmund,the English would secure then the third place .
This weekend´s match which Ajax has won 3-1 against their big rivals PSV will certainly lift the mood inside the team, and the fact that Real Madrid will play virtually with another team, is the best chance of Ajax to reach the Europa league competition.
They have some problems with injuries, especially in the offensive part where Babel and Sigthorsson are missing,so the coach de Boer should likely send to pitch the same lineup which have played against PSV.
Ajax Probable lineup : Vermeer – van Rhijn, Alderweireld, Moisander, Blind – C.Poulsen – Eriksen, de Jong – Boerrigter, Fischer, Hoesen.
Prediction : Real Madrid would be an absolute favorite with the first team, but even with this mixed team somehow goals galore seems certain.Over 2,5 goals.