Already at the start of the new La Liga season , in the 3rd round , we have and the third Madrid derby match and encounters between the current Champions league winner on one side, and the current La Liga winner and the Super Cup winner on other side.
Last season Atletico shocked Santiago Bernabeu with a win, while in the Copa del Rey , Real Madrid were much better and in the end knocked Simeone's side.
La Liga
September 13, 2014 • 19:00 • Estadio Santiago Bernabéu, Madrid
Referee: Antonio Miguel Mateu Lahoz
Live Streams
Match Replay – After the game end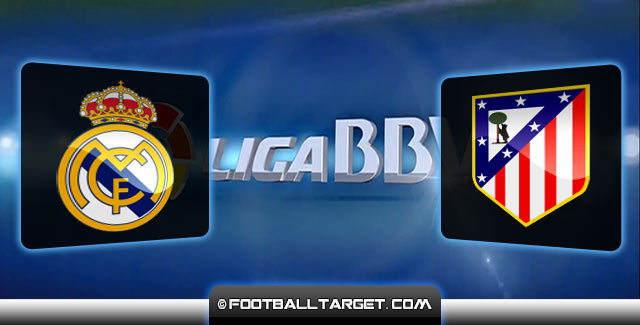 The Los Blancos ahead of new season looked too powerful, especially after they signed Colombia international, James Rodriguez. Still, Ancelotti's side have 50:50 ratio so far. First, Real Madrid win Uefa Super Cup with a win over Sevilla. Then the Los Blancos lost the Spanish Super Cup, against Atletico Madrid. In the first round of La Liga, with 2-0 they were better at home than Cordoba, while in the second round, despite having 2-0 lead Real Madrid lost to Real Sociedad 4-2.
This didnt happen to Real Madrid for a long time, so it's normal that the stars are "under fire". Still, in that game Ronaldo didn't played, and Real Madrid could score more goals, but their defence was weak. Ancelotti wont mix the first team a lot. Carvajal is injured so Arbeloa will take his side, Ronaldo is back which means Isco will move to the bench. Sami Khedira (knee surgery) is out.
Real Madrid probable lineup : Casillas – Arbeloa, Pepe, S.Ramos, Marcelo – Modrić, T.Kroos – Bale, J.Rodriguez, C.Ronaldo – Benzema
Simeone : "We will never have excessive confidence, not against Real or against anyone," he told AS.
"The derby matches are closer nowadays than they used to be, since we ended our run of defeats."
Atletico won the Super Cup of Spain, but that's all what can get a passing grade when reigning champion is in question.
Again they found a way to parry to their town rival and in this tactical "chess moves" were better.
In the opening two La Liga , Atletico didnt shown anything worth mentioning. Against Rayo Vallecano they played a goal-less draw, while in the second round at home against Eibar after superb first half performance and 2-0 lead at the start of the second, until the last minute Atletico feared of losing all three points. Still they ended that match with a 2-1 win.
Problem for Atletico in this match is that their boss, Diego Simeone is suspended , and this can impact a lot on their game. On the other side, we can as usually expect a good defence and counter attacks. Good news for Simeone is that Arda Turan is ready for this match, but it's likely that he starts on the bench.
Atletico Madrid probable lineup : Moya – Juanfran, Miranda, Godin, Siqueira – Mario Suerez, Gabi – Koke, Griezmann, Raul Garcia – Mandžukić