Finally the most anticipiated match of the first part of the season, the most famous Spanish Battle of Giants, El Clasico is on schedule for this Saturday afternoon .
LA LIGA – EL CLASICO
Real Madrid vs. Barcelona Live Streams online
October 25, 2014 • 17:00 • Estadio Santiago Bernabéu, Madrid
Referee: Jesús Gil
Match Highlights & Full Match Replay – available after the game end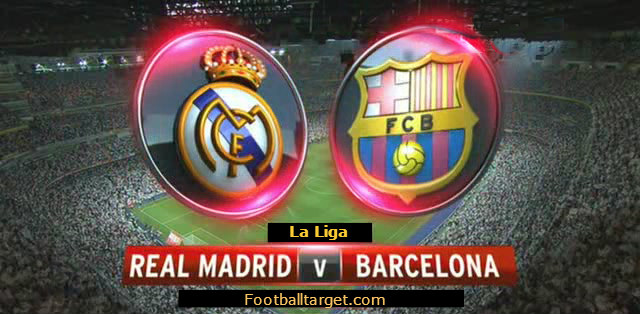 Considering that's early in the season perhaps at this time El Clasico doesnt offers some big uncertainty regarding the result, but dont let that fool you. Cristiano Ronaldo, Gareth Bale (doubtful) , James Rodriguez, Luka Modric and Benzema on one side against Barcelona superstars Lionel Messi, Neymar, Iniesta and Luis Suarez who's finally getting back after serving FIFA ban suspension on another is more than football, more than a match and a derby game which for sure would be watch by millions worldwide.
In history of El Clasico's rarely one left us bored, or without any tales from both clubs. This is not an ordinary match, as the two biggest clubs in Spain are set to clash, while Luis Suarez's Barca debut brings another fascinating sub-plot to this Saturday's El Clasico.
But let's get back to this part "early in the season perhaps at this time El Clasico doesnt offers some big uncertainty", that might be true, but looking at the table, Real Madrid CF are under pressure here. First, the Los Blancos are playing home, which instantly puts a favourites tag on Carlo Ancelotti's side and as that isn't enough, Cristiano Ronaldo and company already after nine-rounds are four points behind the league topper's, Barcelona FC.
Currently that doesnt mean a lot, but if Luis Enrique side manage to shock the Santiago Bernabue and win this match, after only ten-rounds the gap between Real Madrid and Barcelona would be big 7 points. That would leave a scar in Los Blancos locker-room and put for sure even more pressure on the reigning Champions league winner, while the La Liga winner Atletico Madrid and Valencia would be behind them.
We when put things like that, we can see how from "not so important" this El Clasico is a much more than that. If you ever doubt that…
The Catalan giants are still unbeaten in La Liga and they sit on the first place currently having won 8 from 9 ( only drew away against Malaga 0-0) matches. What's even more impressive is a fact that Blaugrana yet didnt concede any goals. On the other side, Ancelotti's side are on a run of 8 straight wins, while in the last 3 matches they kept a clean sheet. Ronaldo is playing perhaps in his life time form, while the mid-week 3-0 win vs Liverpool  just proves how impressive Real Madrid currently plays. Before that the Los Blancos have won the last two La Liga matches with the same score, 5-0.
As for their mutual encounters, Barcelona have won both last season in La Liga, while especially was exciting the one in Madrid in which both teams had a lead, but Barca ended as the winner (4-3). We can only hope, no matter who wins this one, to see so much excitements this Saturday. As for the Copa del Rey, Real Madrid knocked Barcelona !
The duo, which is a world unto itself
This Saturday's Clasico is not just a match between currently the two best Spanish clubs, with due respect for Atletico Madrid, it's also and competition between two currently best footballers in the world.
Cristiano Ronaldo and Lionel Messi for years are playing as they dont want to allow anyone to enter the ranks of their class. One is pushing other over limits almost every season and vice versa, be it in terms of goals, either in terms of physical fitness. El Clasico is regardless of other interesting duels that we can watch, primarily match between – Messi and Ronaldo.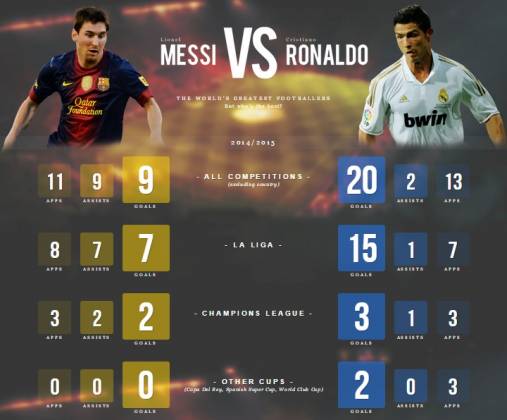 And while Luis Suarez debut would bring a lot of attention, and while the clash : Ronaldo vs Messi is the one to which we will be paying close attention too, the Argentine magician, Messi, could steel all the headlines despite match result. If Messi manages to score two goals this Saturday he will become La Liga's all-time leading scorer.
REAL MADRID
Real Madrid have an imperative before this match and it could be a problem, but if we look at how they play lately, then this is the right time for a showdown with their biggest rival.
At the beginning of the season Real Madrid have had some problems and then they lost two matches in a row, from Atletico Madrid at Santiago Bernabeu and away against Real Sociedad despite have a two-goal lead, and then the team completely shifted and connected eight wins in all competitions in a row, some of which were very persuasive.
In the Champions League with three wins the Los Blancos have already practically won the next round stage , and now they need only a one more win, against Barca to return to play for the title in La Liga. Ancelotti's men led by superb Cristiano Ronaldo are scoring a lot of goals , while in the last three ones they didnt concede any. First they smashed 5 goals to Bilbao , they they repeated the same against Levante, while in England they shock the Reds and scored 3 goals already at the half time. While Ronaldo is in the best possible form, a bad news is that Gareth Bale due to injury most likely will miss this match, so most probably Isco will start instead. Against Liverpool Sergio Ramos was out, but he will return for the biggest Spanish derby match.
Real Madrid probable lineup : Casillas – Carvajal, Pepe, S.Ramos(Varane), Marcelo – Modrić, T.Kroos – Isco, C.Ronaldo, J.Rodriguez – Benzema
BARCELONA
In total Barcelona looks great, but lately some poor matches occurred for the Catalans, so it can be said that they are not in the same form as at the beginning of the new season. A draw against Malaga (0-0) and defeat to PSG 3-2 who played without their biggest star Zlatan Ibrahimovic. The last week Barca celebrated easiely against Eibar and this mid-week against Ajax in Champions league.
Fascinating sounds the fact that in La Liga Barca did not concede a goal which broke all the records, but now ahead of Enrique's men are true challenges.
Barcelona have two very enthusiastic players, and they are Messi and Neymar, both are scoring at every game, but the main news is a return of Luis Suarez after his suspension expired and he will be in contention for this match. According to Enrique perhaps he could even start from the first minute. Against Ajax ,Bravo, Mathieu and Busquets were sidelined, but all of them will be available for this match, while only doubt for Enrique remains , Xavi or Rakitic.
Barcelona probable lineup : Dani Alves, Pique, Mathieu, Jordi Alba – Busquets, Iniesta, Rakitić(Xavi) – Pedro, Messi, Neymar
Match Prediction : It's hard to predict this match, but Real Madrid can't lose it. Currently the Los Blancos are in better shape, but on the other side is Barcelona. So we decided to go with Both teams to score .