Many will say that this is the final before the final, and indeed team from this encounter which reaches the final will be and the favourite in the Champions league final.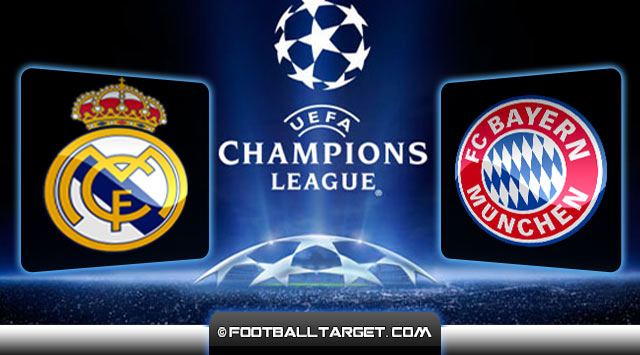 Overall this season Bayern showed more, however, Real was not bad, especially in recent week's, as the Bavarians slightly dropped their form. One trophy the German side have already won this season, as they clinched the Bundesliga title, while Real Madrid have won a Copa del Rey with a win over Barcelona in the finals. Both teams still can won two more titles, plus the Champions League.
Last weekend Real Madrid rested and Bayern had an easy championship match, where Bayern beat Eintracht Braunschweig 2-0. In the last 14 years, these two teams have met just as many times in the Champions League, in which Bayern had more success, but also in 2012, Bayern knocked Real Madrid with a 3-1 penalty shootout win at the Santiago Bernabeu and the German side secured then their place in the 2011-12 final.
"We did very well, especially in the second half. It's important we set off for home feeling good, and that's exactly what we're doing," the Germany international told the club's official website.
"[Against Madrid it will be] sensational. I'm really looking forward to it. We'll see two massive games.
"On Wednesday we'll show we're always up for it in the important games. But it's still 50-50."
The Los Blancos achieved one goal this season, and that is winning the trophy of the Copa del Rey. True, it is the least valued trophy, however, win in the final against Barcelona, is something which is always special and worthy.
Now, in an excellent mood the Spanish side await the semi-finals phase of the Champions League, where to win the trophy they will will have the most difficult path, as they face the last year's finalist, and the actual winner of the Champions League.
Last weekend Real Madrid rested, because the match against Valladolid was postponed, and this rest came in a good time, because the Los Blancos have some problems with injuries. Real Madrid won Copa del Rey without Ronaldo (knee and thigh problems) , Marcelo, Khedira and Arbeloa, and now Gareth Bale is suffering from illness so Ancelotti hopes that his two biggest star Ronaldo & Bale would pass fitness.
Probable starting lineup of Real Madrid: Cassilas – Carvajal, Pepe, S.Ramos, F.Coentrao – Xabi Alonso, Modric – Bale (Isco), di Maria, C. Ronaldo – Benzema
Bayern eased in recent games, however, we can not say that this is just a drop form, as it looks more like a conscious relaxation in some games, where mostly played some reserves.
It can be an excuse for the defeat at Augsburg, but not for a defeat at home to Borussia Dortmund (3-0), where Guardiola has sent almost all the best players to the pitch. The same Pep done in a Cup semi-final, where Bayern Munich outclassed the second division side, K'lautern with 5:1 and reached the final with Borussia Dortmund.
On Saturday, Bayern played against the league bottom club, Braunschweig, and did not go very smoothly, but in the finish, Bavarians scored two goals and won. In that game on the bench were Muller and Mandzukic, but the bigger problem is that for the third game the first goalkeeper Neuer was sidelined due to injury.
He should be ready to Madrid, as well as Alaba, who also did not play against Braunschweig because of suspension. If both are fit for this game with Real Madrid, then only injured duo Alcantara and Shaqiri will be out.
Probable starting lineup of Bayern: Neuer – Lahm, Boateng, Dante, Alaba – Schweinsteiger T.Kross – Robben T.Muller, Ribery – Mandzukic (Goetze)