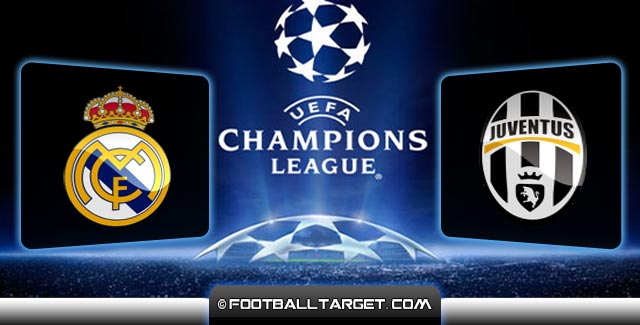 UEFA CHAMPIONS LEAGUE
May 13, 2015 • 19:45 • Estadio Santiago Bernabéu, Madrid
Referee: J. Eriksson
Real Madrid vs Juventus Live Streams
Watch Real Madrid vs Juventus Match Highlights
Watch Real Madrid vs Juventus Full Match Replay 
Real need intensity for Juve second leg – Ancelotti
In Madrid the last week will not be remembered with any good, first Ancelotti's men suffered a defeat in Turin against Juventus 2-1 and later on, waiting for Barcelona's blunder in La Liga, they made a blunder of they own dropping two points at home against Valencia, practically giving the league title to Barcelona.
From Copa del Rey the Los Blancos were knocked even before so in order to save the season they have to book the last available ticket for the Champions league final, where another Spanish side wait, Barcelona FC who clinched their ticket with a total of 5-3 against Bayern Munich, this Tuesday. The good news for Ancelotti is a return of Karim Benzema but the bad news is that the old – new Italian Champions will be boosted by a return of Pogba.
Juve who already sealed the new title can be focused 100% on this game and the same suggest the fact that Juve boss Allegri rested a few players from the first team in the last game against Cagliari which ended 1-1.
That confidence at Juve is high Chiellini's words for Sky Sport Italia suggest:
"We will need to score a goal, because we know that that you can't go to Madrid and defend such a slender advantage.
"Our spirits are high and we've had a relaxing week, having already won the Scudetto. We've prepared well for the match and can't wait for Wednesday evening."
On the other side Real Madrid is not lacking the same, as James Rodriguez for El Pais said:
"We respect all the teams in the world, and we know what Italian teams are like – they defend very well and we will have to be very good to break through their defence.
"We have to score goals and if we manage that we will be going to the final in Berlin."
Juventus goalkeeper Gianluigi Buffon praises his Real Madrid opposite number Iker Casillas — who was whistled during the 2-2 draw at home to Valencia which effectively ended Real's La Liga title hopes — before their Champions League semi-final second leg in Madrid, which the Italians lead 2-1.
Team Lineups
Real Madrid: Casillas, Carvajal, Pepe, S. Ramos, Marcelo, Ja. Rodriguez, Kroos, Isco, Bale, Benzema, Ronaldo
Out: Modrić, Khedira
Juventus: Buffon, Evra, Chiellini, Bonucci, Lichtsteiner, Marchisio, Pirlo, Pogba, Vidal, Tevez, Morata
Out: Asamoah, Caceres