FIFA CLUB WORLD CUP Final
Real Madrid vs San Lorenzo Live Streams
December 20, 2014 • 19:30 • Stade de Marrakech, Marrakech
Referee: W. Lopez
Match Highlights & Full Match Replay – available after the game end
Champions League winners Real Madrid after booking their place in the final in Marrakech with a 4-0 victory over Cruz Azul, are set to clash at the FIFA World Cup Final against the South American champions San Lorenzo who required extra time to beat Australian side, Auckland City 2-1.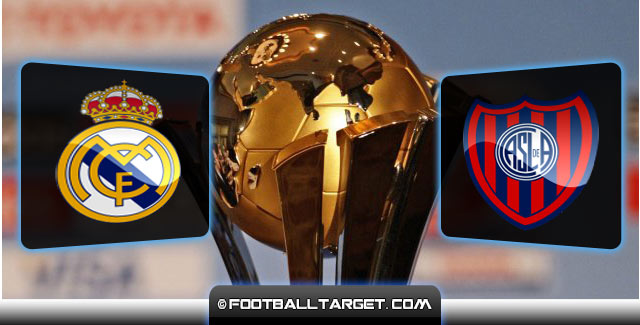 The Los Blancos stand as big favourites to take the crown of the World's best club. After winning La Decima, their 10th Champions league title, Real Madrid led by Cristiano Ronaldo wants to take another step and to win the FIFA Club World Cup before ending this great year for the Spanish team.
Ancelotti's side are on a run os 21 straight wins and they are missing only three more to beat another record. To do that, they would need to beat the Argentine San Lorenzo. If they manage to do it, it would be the club 80th trophy in their history.
Coach Carlo Ancelotti has already become the club champion with AC Milan in three occasions, as a player in 1989 and 1990 and as coach in 2007. If tonight his team wins, The Italian coach will enter into the history books, as no one managed to win more than three world titles so far.
"We deserve a trophy for the end of fantastic year. We are prepared for a game which has to be perfect and played at maximum. The players did not need any extra motivation, this is the final. All are ready, something nice will happen," said Ancelotti before the game Ancelotti.
– It's been a great year. We won a lot of trophies, and personally I enjoyed playing for Real Madrid and the national team of France. We want to win this title in order to continue an excellent series and to finish the year on the way we've been dreaming – said Real Madrid striker Karim Benzema.
Iker Casillas, who two days ago in the semifinals defended a penalty, shall enter his 700th appearance for the European champions: "I don't think I have anything to prove – what I've done in my career is there for everyone to see," he told Fifa.com. "By playing games I'll hopefully get my confidence back to where it used to be, which is what excites me more than anything.
"If it had gone to 2-1, it might have been a whole different ball game," he continued. "Goalies always try to help their team at crunch moments like that.
"Luckily I dived the right way and I'm happy because the team were able to relax and see it out comfortably.
San Lorenzo, after 15 domestic league titles , for the first time in club's 106-year history in May won the Copa Libertadores with a total 2: 1 in two games against the Paraguayan Nacional.
"I believe 100 percent in our chance. We have to dream of victory. We are delighted because we are in the finals. We will do everything to win. We will try to play the best we can, although the opponent is one of the best teams in the world," said San Lorenzo boss, Edgardo Bauza.
Experienced Bauza, a former defender of Rosario, six years ago with the Colombian Quito, won Cop Libertadores and also reached the final of the club World Championship. His team suffered a 1-0 defeat against Sir Alex Ferguson's Manchester United, when Wayne Rooney fired a winner for (1: 0). After this defeat, Bauzaresigned.
"We have to fight for every ball as if it's our last. If we respect them too much, it will be impossible," said before the finals the 33-year-old midfielder Romagnoli. "We have to play with a knife between our teeth," he quoted the legendary captain of Argentina, today Atletico Madrid's coach, Diego Simeone.
Real Madrid for the first time, Argentines have a bad experience
FIFA Club World Cup was first played in 2000, when the title in the Brazilian finals in Brazil took Vasco da Gama on penalties against Corinthians. Since 2005, the competition is unified with the Intercontinental Cup which from 1960 played the champions of Europe and South America. So far in the finals, six times FIFA Club World Cup was played in Japan, twice in the UAE, and the second time in a row it's being held in Morocco.
Real Madrid at that time did not won the European crown and neither played in the FIFA World Cup Championship, while their biggest rivals, Barcelona FC played in three finals in the last eight years and twice won the title.
For comparison, in the last transfer window Real Madrid spent over 120 million on players, and the team is estimated at 690 million. San Lorenzo is worth 37 million, and this season San Lorenzo spent only 3 million to pay their most expensive player, midfielder Barrientos from Catania. Real Madrid only for James Rodríguez paid 80 million.
The biggest name in the locker room of the South American champion is the 38-year-old Mario Yepes, a former defender of PSG and AC Milan. Top Goalscorer is Nestor Ortigoza, midfielder, with six goals in 16 appearances. Goal less scored the 32-year-old Argentinian Mauro Matos.
Team Probable lineup
Real Madrid: Casillas – Marcelo, Pepe, Ramos, Carvajal – Kroos – Isco, Illarramendi – Ronaldo, Benzema, Bale
San Lorenzo: Torrico – Buffarini, Mario Yepes, Kannemann, Emmanuel Mas – Nestor Ortigoza, Juan Mercier, Enzo Kalinski, Romagnoli, Barrientos – Cauteruccio