Arjen Robben broke the "speed record"  of the Arsenal player, Theo Walcott and is now the fastest footballer in the world …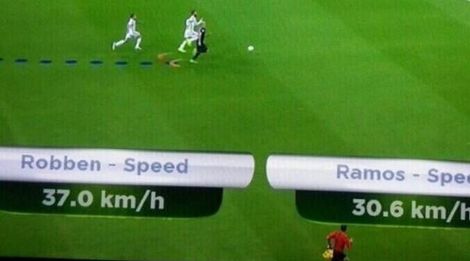 Dutchman Arjen Robben has set a new football speed record during match of the Group B of the World Cup between the Netherlands and Spain.
Netherlands smashed Spain with 5-1, while Robben's fifth goal has broken a record. Robben taken the ball at the center of the field , and sprinted to the opposing penalty area by a whopping 37 miles per hour!
He was seven km / h faster than his "guard" the Spaniard, Sergio Ramos, so it does not surprise that he ran past him.
Robben broke the previous fastest sprint of the Englishman Theo Walcott, who ran a top speed of 35.1 km / h.
However, Robben is quite slower than the World fastest man , Usain Bolt, who holds the sprint world record with the speed of 44.5 km / h.