Football is the most popular sport in world and the FIFA World Cup is the biggest football competition. Now when we said it, let me ask you, do we really need it, and if we do, does it have to be like this ?
Brazil vs Croatia Full Match
Football changed, from sport, now, it's all about money. Money rules the world so probably shouldnt be a science fiction if we say, money did changed football. If we see what Real Madrid, Manchester City and lately PSG did to football, throwing so much money away, we have to admit it, our sport, football, is not like it used to be.
Brazil invested a lot of money to be prepared for the World Cup, but some stadiums still are not finished, like the Arena Corinthians in São Paulo where the first game was played this Thursday. Two stands were empty, the roof wasnt finished as well.
Is it to soon to call this World Cup a failure ? Let's go a little further
Speaking of the problems with this World Cup in Brazil , every day we see a lot of protests arround cities in Brazil and this night wasnt an exception. Across the whole city domestic people went out and protested. Brazil invested a lot of money, while a lot of pure people lives there. Situation is not good, and people want changes. They ask them self why throw money away and hide the fact about situation in which they live ?
Brazilian protesters came out on the streets to express their dissatisfaction with organization of the World Cup in that country, and the fact that for this event it was spent 11 billion dollars. At the same time, a huge number of people living on the streets and barely surviving from day to day.
Brazilians from governments are seeking to invest in education, health and community flats. What do they think about the global football event clearly expressed messages "Fifa march home" and "Fu.. Fifa". It is an umbrella organization of world football seen by many as the main culprit because it is to maintain the SP consumed huge amounts of public funds. Many sees FIFA as main culprit because for spending huge money for maintaining this World Cup. Reason, as usually, is a simple one. Money !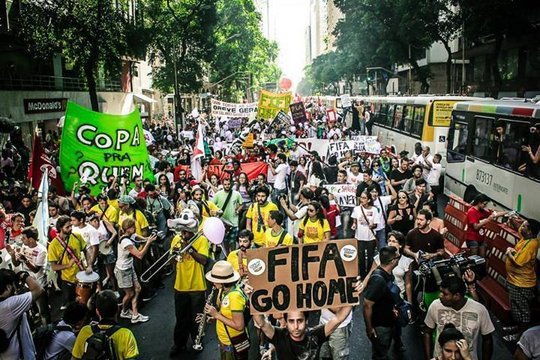 Image : ultras-tifo.net
Most of the players are playing in the top Europe clubs, having 50 or more appearances for their clubs. It's only normally they are tired. Only two, three weeks after the season's end, players joined their national teams and played three more games ahead of the World Cup. These problems are present for many years, and they are many complaints from the players about it. But as we learn above, money dictates all, and so this as well.
Players like Marco Reus, Franck Ribery, Montolivo and Cristiano Ronaldo suffered because of it, and while Ronaldo probably will be ready for the first game, others suffered injuries most likely due to to fatigue and will miss the World Cup.
Those players who made it, withstood all, and will play at World Cup most likely are drawing their last atoms of their strength.
Croatia boss, Niko Kovac made a remark to this after his team suffered a 3-1 defeat to Brazil. More specific, Kovac was very angry with the main referee Nishimura who ruled out practically his team.
My Men fought, struggled, done their preparation and then comes the referee who is not worthy of match of this level . We're talking about the respect, that it was not for my team. Otherwise, I'm not attacking the referees, but I have to say this. It's Shame! ", Said Kovac, who praised his players.
Does Brazil after investing so much money have to win this World Cup ? Will that ease problems of people living there ? Judging by the first game, that might be a case .
The Japanese referee had a double criterion. One for the Brazilians players, and other for the Croatian players. As this is the biggest football competition in world, the opening game and the final game is the most watched game across the globe. What all those people saw , was shameful . This obviously wasnt football everyone wants to watch. A game directed by a "Man in black" is something we all hate. And when this happen already in the first game, we have to be worry of what can we expect.
It's not the first time, the man in black ruled to the Croats. To recall, similar thing happen to them on Euro 2012 against the Spain, when a man on "case" was W.Stark ( Read More) . To shorten Euro 2012 story, Stark missed to point twice to penalty kick for Croatia, and even Marca.com admitted that at least one penalty was a 100%. Another big mistake that Stark has made that day, is a goal of Spain by which the Spaniards have won that game. The only goal on the match was from a offside.
If you watched Brazil vs Croatia, probably already now you can see the pattern. Big teams have to win. If in any case you missed the opening match of the World Cup, you can watch it here.
That people are not blind, confirms the story, that on twitter a special hash tag was already made, and people all over the world are commenting about "robbery" already in the first game.
So let's see what happen in this game. We bring 7 key details which might take a game to other way.
1. It was 27th minute and Croatia had a 1-0 lead. Nishimura simply does not want to give a red card to Neymar, who deliberately fouls Luka Modric with an elbow in the fac.
Neymar's intention was clear, visibly nervous due to negative result, Neymar wasnt watching the ball, but he deliberately went directly to the head of Modric. Nishimura's error was even bigger as he saw it and showed a yellow card to Neymar.
If he saw, it had to be a red card. This error becomes perhaps was the key to the final score of the game, because Neymar, who was supposed to be off, just two minutes later scored a brilliant goal for 1-1. Later on he converted and a penalty for 2-1. Neymar said he didn't saw Modric, but video suggest that he did.
2. A new catastrophic mistake of the Japanese referee. In a duel in the Croatian penalty area we could see some "touches" between Fred and Corluka but this football not a ballet. It wasnt anything huge, and if every referee would point to penalty because of it, we would see more than 100 penalties every week. But nothing rough and nothing obvious. Fred falls theatrically if there is Football Oscar, Fred would won it. Nishimura instead of showing the yellow card for simulation to , points to penalty, and Neymar converts it for a 2-1 lead.
3. It was the 84th minute. Croatia scores for 2-2, but Nishimura declined the goal. It's not sure did Nishimura saw a foul on Cesar or he saw Ivica Olic playing with a hand. In any case, the second one didn't happen, while the first thing, probably didn't happen too.
The Legendary English footballer Chris Waddle, said to the BBC:
" I do not think there was anything controversial in this situation. Cesar missed the ball, Olic struck her, and that's it. For me this is another controversial decision by the referee after a penalty."
4. In the last moments of the match, when Croatia completely pressed Brazil trying to equalize, new Barcelona player Ivan Rakitic on the centre was fouled. Still Nishimura didn't call it and let Oscar to take a ball, who runs past Croatia defense and scores for the final 3-1.
Switch to 08:20

5. Earlier in the game, Danny Alves makes a contact on Ivica Olic. Alves was the last man, and with a slight contact on Olic's leg , Olic falls down. A lot of things could be called here, but none was.
All doubtful decision went in favor of Brazil, and the ratio of fouls tonight was Croatia 21:5 Brazil.
Millions of fans wait FOUR whole years to watch the greatest sporting event and "things" like this happens ?.
The most beautiful sport in the world is ruined by "referees" like these. This World Cup is not what it used to be.
Not because dozens of great footballers are injured, but because money has corrupted it. Will Brazil be in the final no matter what and if so Who needs a World Cup like that??
Let's end this with Niko Kovac's thought about this game :
"If that was a penalty, than we should play basketball, not football!"
"If you continue like this you will have 100 penalties. I think 2.5 billion people watching on TV saw this was not a penalty.
"This was ridiculous and if we continue in this way we will have a circus. I don't blame Fred at all. I blame the referee.
"The referee had different set of rules for us and different for Brazil. Shameful refereeing for [the] World Cup! And I am proud of my players, that is how you play for your country."
WHAT DO YOU THINK ?