Great Polish Footballer Lewandowski will be a "hot stuff" this summer on the football market. Apparently he has already signed a pre-contract with a club, but his agent for the time being does not want to disclose a club name.
Two days ago Enrique Reyes,agent of Bayern boss Heynckes told :
"Bayern have signed Lewandowski," he told COPE. "Yes, right now, they have Lewandowski and Gotze. The problem is that Bayern has a lot of money. They are doing what they did with [former Athletic Bilbao midfielder] Javi Martinez.
"If a club doesn't want to negotiate with you, what do you do? Why, pay the buy-out clause, of course."
Meanwhile Bayern Munich at the club official web decided to break the story: "Many sources link our club and Robert Lewndowski. We clearly highlights that these rumors have nothing to do with the truth. There is no pre-contract of Bayern and Lewandowski!"
Bayern denied a contract, but not the interest.
Maik Barthel,agent of Lewandowski this morning at the Polish TVN24 said that skilled Polish striker is playing his last season at the Signal Iduna Park.
" We have an agreement with a club on the transfer this summer. Everything Borussia asked was accomplished. Offer for Robert meets all the criteria set by his current club, as well as Robert's demands," said Maik Barthel.
While the German media are convinced that Robert Lewandowski this summer will move to Dortmund bitter rivals ranks,Bayern Munich, the English (The Express), however, are claiming that Lewandowski will "saw off" Bavarians for Manchester United .
In fact, Manchester United has reportedly agreed to pay the required 20 million pounds, amount which Borussia was asking for their striker.
The reason why Lewandowski, according to British, will refuse Bayern is a fear of Borussia fans, where he became a favorite over the last three years since he is a club member.
Lewandowski this season has scored 33 goals in 42 matches in all competitions. Remember, the last four he scored to big Real Madrid in the first semi-final of the Champions League on Wednesday, in club´s celebration at the Signal Iduna Park (4-1).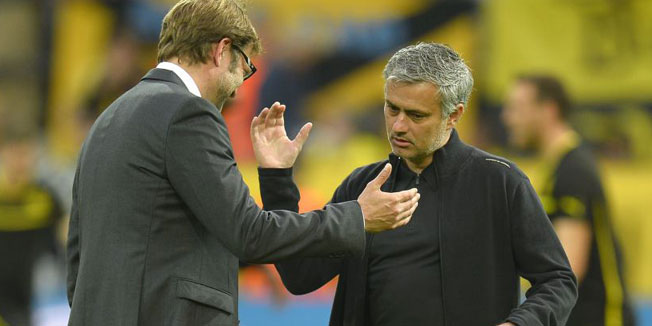 Most recent news,according to German Bild newspaper,Lewandowski is going with Jose Mourinho to Chelsea.
Specifically, Bild claims that Mourinho before the game whispered to Dortmund´s coach Jürgen Klopp that at the end of the season he is leaving Real Madrid and takes over Chelsea, and asked him how much he is asking for Robert Lewandowski (?).