This Thursday could happen a sensational transfer. Dutch football player, 29-year-old Robin van Persie, could continue his career at Manchester United …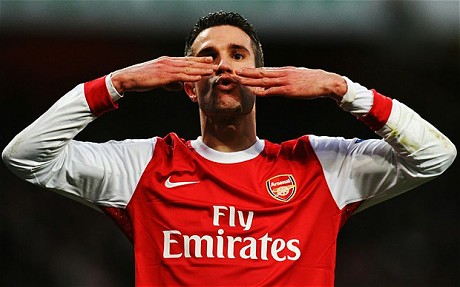 So says Manchester Evening News, and all other world media passed that news. Apparently this Thursday the Dutchman, still a member of London's Arsenal,will meet with the leaders of the Old Trafford club to specify all the details of the contract which English media have described as a "done deal".
We recall that earlier in the summer, Van Persie refused to sign a contract extension with Arsenal, where he came 2004th year from Feyenoord. So far the only two clubs in Van Persie´s career.
Apparently Manchester City coach Roberto Mancini personally have agve up from Van Persie, but not due to United's coach Alex Ferguson who this Wednesday, after the friendly match with Barcelona, said he hopes of the arrival of Van Persie, which surprised the journalists, because the Dutchman wasnt linked seriously with the Old Trafford club.
Sir Alex Ferguson has sad :
"We have made a bid and they've been trying to negotiate with other clubs,": ManU boss said.
"I don't have a gut feeling on it at the moment, I must admit. We're not getting any breakthrough with Arsenal.
And he added: "it's difficult to say why they're (Arsenal) operating this way,I don't know what their thoughts are because they're not giving anything away."