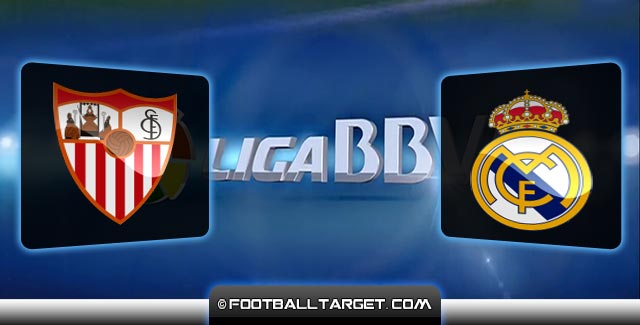 La Liga
May 2, 2015 • 19:00 • Estadio Ramón Sánchez Pizjuán, Sevilla
Referee: José Luis González González
Sevilla vs Real Madrid Live Streams
With Barcelona most probable win over Cordoba, the Los Blancos must avoid and drop of points against Sevilla if they are to sustain their push for the Liga title. The good is for Real Madrid is a return of Gareth Bale, while the recent mutual history is on their side as from their last two trips to Sevilla, Real Madrid returned with six points.
Sevilla continued with good games and victories, followed by celebrations at Eibar, Unai Emery's men finally managed to welcome and Valencia's blunder who played against Rayo Vallecano 1-1. This means that in the fight for the place which lead to Champions league Sevilla and Valencia have the same number of points.
Sevilla is unbeaten this season at home, and in seventeen games played so far at the Sanchez Pizjuan, Unai Emery's men have won 41 points. This big series will be on a huge test as in town will arrive Real Madrid who is in need of all three points as well, for their race with Barca for La liga title.
– We're playing really well, especially at the Sanchez Pizjuan, but against Real Madrid we just can not be the favorites.
– I believe in my team and its possibilities, but on the other hand, we will play against one of the strongest teams in the world. In any case we will try to impose our game to the opponent, to be equal, and to continue our serie, said Sevilla boss, Unai Emery who can't count on Pareja, Barbosa, Cristoforo, while Vitolo, Beto are doubtful.
The Los Blancos against Almeria at home in the last round did not had a tough job securing another three points with a 3-0 win, to keep the connection with Barcelona.
More than about that match later was talked about a brilliant goal of James Rodriguez, and Cristiano Ronaldo's reaction after Arbeloa has "stolen" "his" goal.
– We know Sevilla very well because we have already defeated them twice this season (One in the European Super Cup) and we are aware of the things that we have done well and the ones we did not.
– I know they are very strong at home and that they play great football, which means that this time we have to do our best.
– We lag behind Barcelona, ​​but yet, we do not give up on our championship ambitions, and for this purpose we have to achieve victory – said Real Madrid boss Carlo Ancelotti who welcomes back Sergio Ramos & Dani Carvajal (both served one game suspension) but is still without Karim Benzema and Luka Modric, while Khedira is not on the list for this game.
Real Madrid manager Carlo Ancelotti says Gareth Bale will return from injury for his side's La Liga match at Sevilla.
Team probable lineups
Sevilla: Rico, Coke, Carriço, Kolodziejczak, Tremoulinas, Banega, Krychowiak, Vidal, Iborra, Reyes, Bacca
Out: Vitolo (?), Beto (?), Pareja, Barbosa, Cristoforo
Real Madrid: Casillas, Marcelo, Varane, Pepe, Carvajal, Isco, Kroos, S. Ramos, Je. Rodriguez, Ronaldo, J. Hernandez
Out: Modrić, Benzema, Khedira