According to the Spanish AS, realization of the transfer of 32-year old footballer Seydoua Keita from Barcelona to Milan is almost finalized.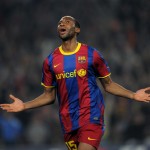 Despite a contract that runs until June 2014. Keita has for some time close to the departure from the Catalan team. AS stated that representatives of these two clubs have already discussed several times, and it seems that at the last meeting and agreed the final details.
Keita after the episode in Marseille, Lorient and Lens, 2007. came to Seville, and just a year later come to Barcelona. As things stand midfielder from Mali, will wear jersey next season Milan.
This season in the Primera Keita has played 22 games and scored only one goal.