Probably the most interesting match of the last sixth round of Champions League, in which at the beautiful Donbass Arena in Donetsk will meet currently two leading teams in Group E, Shakhtar and Juventus.
Specifically, the Ukrainian champions so far have collected 10 points while the Italian champion Juventus,nine.
This means that in this duel a draw suits the best to both teams to reach the knockout phase, given that the third-placed Chelsea have only seven points, but also a weaker mutual results in relation to Shakhtar and Juventus.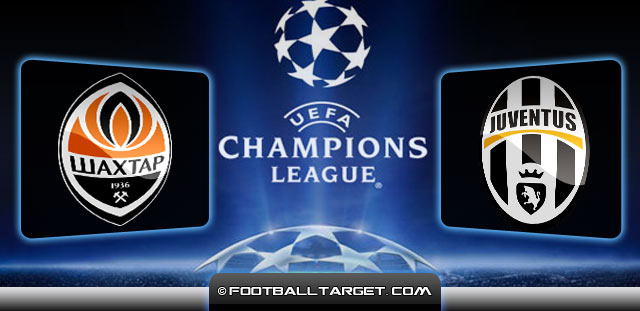 First match which was played in Turin finished with a draw 1-1,but we must point out that in that match the Ukrainian champion,deserved a victory.
Although there are many speculations how these two teams will play a draw and thus reach a passage to the next stage of this competition, both coaches have pledged to go for victory.
Normally, it is clear that anything other than that they should not say so but it is logical that exactly this could happen.
Shakhtar coach Lucescu : "This represents a big exam for us, against a team with great tradition, history and players," Lucescu said at a press conference. "This is a game that transcends normal fixtures.
"Regardless of our qualification status, football is football, we're professionals and we'll take to the field with the desire to win.
"We're up against an incredibly strong side, who play a type of football I appreciate. They know our strengths and we know theirs.
"We're fully motivated and determined to show our hunger on the pitch."
Shakhtar first goalscorer Henrikh Mkhitaryan added : "Everyone thinks that we are already in the last 16, but we will take to the field to win. We are at home and our fans will support us."
Due to injuries for this match will not comepte defenders Chygrynskiy and midfielder Hubschman while Luiz Adriano is suspended after his unsportsmanlike move against Nordsjaelland.
Shakhtar probable lineup : Pyatov – Srna, Kucher, Rakitsky, Rat – Stepanenko, Fernandinho – Alex Teixeira, Mkhitaryan, Willian – Eduardo
After 15 league rounds Juventus occupy the first place having two points more than Napoli, and four more than Inter. And it was from this team recently Juventus suffered his first defeat after 49 matches, while two rounds ago and another club from Milan was also better than "Bianconeri" in the domestic championship.The last round in city derby match Juventus celebrated against Torino 3-0.
In the Champions league after some slow start and several draws,last two home victories against Nordsjaelland 4-0 and Chelsea 3-0 brought them this chance to reach the next stage.All they need to do now is not to lose this match.
But in case of their defeat at the Donbass Arena and Chelsea's victory over Nordsjaelland, the Italian champion would drop to a third place in the group ,and so continue playing in the Europa League.
Buffon at at a press conference has said: "Our biggest concern is that third result, the one we really don't want to think about. It's the trap that we fear falling into.
"We know how good Shakhtar are and we respect them. But they have already qualified and so they will possibly be a bit more relaxed.
"No matter what happens, I think winning the games we have won in such a tough group shows we have what it takes to inspire fear in our opponents."
Bonucci and Vidal returns after injuries,while Caceras is injured and Marchisio suspended.
Juventus probable lineup : Buffon – Barzagli, Bonucci, Chielini – Lichtsteiner, Pirlo, Pogba, Vidal, Asamoah – Vučinić, Giovinco
Match Prediction : Since with a draw in this match both teams would made their passage to knockout stage of the Champions League, we have decided to use exactly that option, because it is really hard to expect that teams would gamble in important match like this. Another option what you can pick at some bookies is first half or full time draw.Under 3 goals could be another good options for this.
Watch Shakhtar Donetsk vs Juventus online from our Live streams section